Whether you are a Vikings fan or not, this stadium will be a multipurpose stadium and we should expect that it be fully accessible and clearly exceed minimum standards. It has often been called the People's Stadium – let's make sure it can be used and enjoyed by all the people!!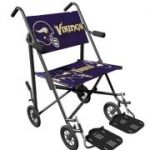 Help us send a strong message to the stakeholders of this event (The Minnesota Vikings, the Minnesota Sports Facilities Authority and HKS Sports & Entertainment) by attending this public meeting & signing up for the public comment period.
Some examples of what to ask for:
A fully accessible and usable stadium that exceeds minimum standards.
An Accessibility Advisory Committee established to monitor and advise on stadium access issues.
The same nationally recognized access consultants that the Twins Organization used, hired for this project.
Read more about the outreach by MSCOD's own Margot Imdieke Cross and our effort to tout the need for an accessible stadium.
Event Details
Meet the New Stadium Architect
October 15, 2012
5:30-6:30 p.m.
Minneapolis Convention Center – Ballroom B
1301 2nd Avenue South
Minneapolis, MN 55403
The Minnesota Vikings and the Minnesota Sports Facilities Authority invite you to meet representatives from HKS Sports & Entertainment Group, the architectural firm selected to design the State's new multi-purpose stadium.
Next Monday, October 15, from 5:30-6:30 p.m. at the Minneapolis Convention Center (Ballroom B), you can hear directly from HKS architect Mark Williams, along with MSFA Chair Michele Kelm-Helgen and Vikings Vice President Lester Bagley, regarding the design and construction of the new facility. Public comment and questions are encouraged.
Public comment sign-up will occur at the event.
The site is wheelchair accessible. Sign language interpreters and assistive listening devices will be provided.