Sign up now to join The Minnesota Consortium for Citizens with Disabilities (MN-CCD) for a panel where state and legislative leaders will discuss the status of health care in Minnesota, the challenges we face in health and long term care reform, as well as solutions for the future. The panelists will include Health and Human Services leaders from the House and Senate, as well as experts from Department of Human Services.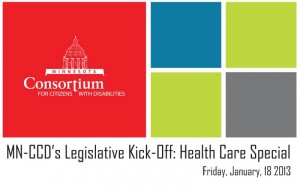 MN-CCD's Legislative Kick-Off: Health Care Special
Friday, January 18 from Noon to 1:30 pm
Kelly Inn – 161 St. Anthony Ave., St Paul MN 55103
The program will include a panel presentation with the opportunity for the audience to ask questions, information about the MN-CCD Tuesdays at the Capitol advocacy program, as well as free hors d'oeuvres and refreshments.
Please RSVP to Christian Knights at christian.knights@couragecenter.org by Jan. 14 to assure your seat. Walk-ins are also welcome. For questions or information, you can email or call 763-520-0725.
Questions or comments? Please email us at christian.knights@couragecenter.org or go to the CCD website at http://mnccd.org/