Thursday, October 17, 2013
1:00 – 3:30 p.m.
Light refreshments provided.
DS Event Center | FREE PARKING
415 Pascal St. N, St. Paul, MN 55104
$15 non-refundable ticket.
Prepay required. Make checks payable to the Minnesota State Council on Disability.
Purchase Orders accepted.
RSVP by October 10, 2013
The following accommodations are confirmed: Wheelchair accessible, ASL, CART, Audio Description. Make other accommodation requests during registration.
Questions: Mai Thor at 651.361.7803 or mai.thor@state.mn.us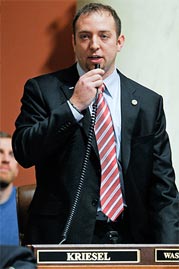 Keynote Speaker
John Kriesel
Former State Representative Kriesel is a veteran with a disability, who served in the Minnesota House of Representatives from 2011-2013.
Representative Kriesel works to increase awareness and employment for other veterans with disabilities.
Join us as we observe October as National Disability Employment Awareness Month and give recognition to those who have done outstanding work impacting the lives of people with disabilities.
We will look back at the years of service provided by the Council as we celebrate our 40th Anniversary.
[Registration is now closed.]