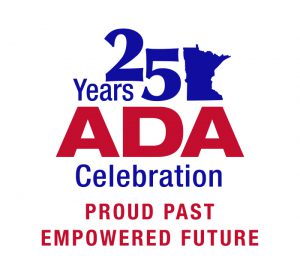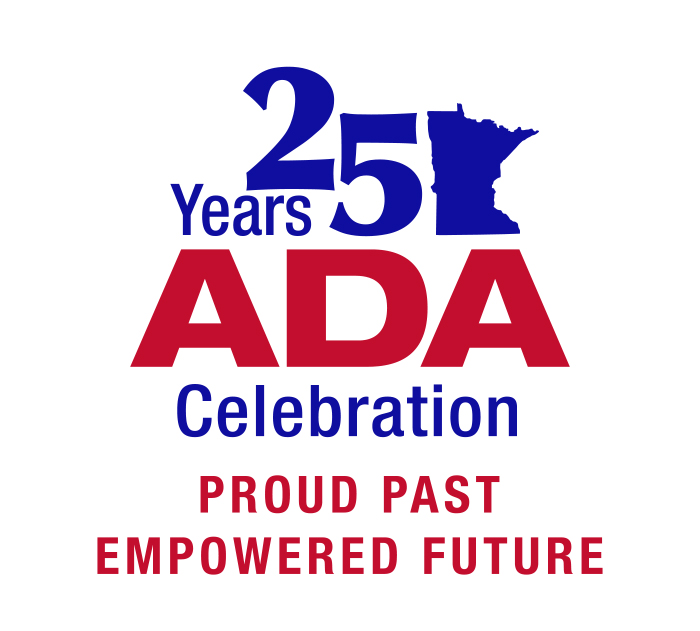 MSCOD Myth Busters
Read facts about disability and employment from this insightful collection compiled by MSCOD, which was put together to dispel common misconceptions about people with disabilities: MSCOD Myth Busters.
Celebrate 25 Years of the ADA
The Disability Community, in partnership with Twin Cities Public Television (tpt) and MSCOD, proudly present Celebrate 25 Years of the ADA, created by tpt journalist, David Gillette.
SAVE THE DATE: Join us on July 26 for Minnesota's premiere ADA Celebration!
MSCOD and the project partners are hosting the 25th Anniversary of the ADA Celebration and Family Day at the Minnesota History Center in St. Paul on Sunday, July 26th.
More details of the ADA Celebration and Family Day, including a list of performers!
If you would like to help us promote this event, an 8.5 x 11 poster can be found on our website.
ADA Conference Venue Announced!
On Wednesday, October 28, 2015, MSCOD, along with the project partners, will host The ADA at 25: Minnesota Moving Forward, an ADA Celebration/Training Conference at the Minneapolis Convention Center. More details about the event.
THE ADA LEGACY PROJECT: MOMENTS IN DISABILITY HISTORY 22
Task Force on the Rights and Empowerment of Americans with Disabilities
Share your point of view on the ADA!
MSCOD wants to learn how the ADA has impacted employment. [The survey is now closed. Thank you for your participation.]
About the ADA 25th Anniversary Legacy Project
The Americans with Disabilities Act (ADA) turns 25 years old on July 26, 2015. The Minnesota State Council on Disability (MSCOD) is planning a number of activities leading up to and marking this historic day.
The MSCOD ADA 25 year Anniversary Legacy Project seeks to preserve and raise awareness of Minnesota's role in the development of the ADA as well as celebrate Minnesota's disability cultures in tandem with the 25 year anniversary of the passage of the ADA.
More information about the Legacy Fund
MSCOD's Legacy Funds are administered by the Minnesota Humanities Center.
The Minnesota Historical and Cultural Grants Program has been made possible by the Arts and Cultural Heritage Fund through the vote of Minnesotans on November 4, 2008. Administered by the Minnesota Historical Society.