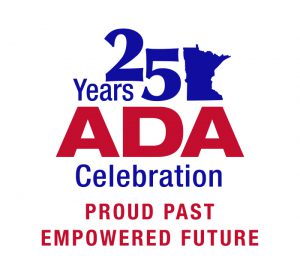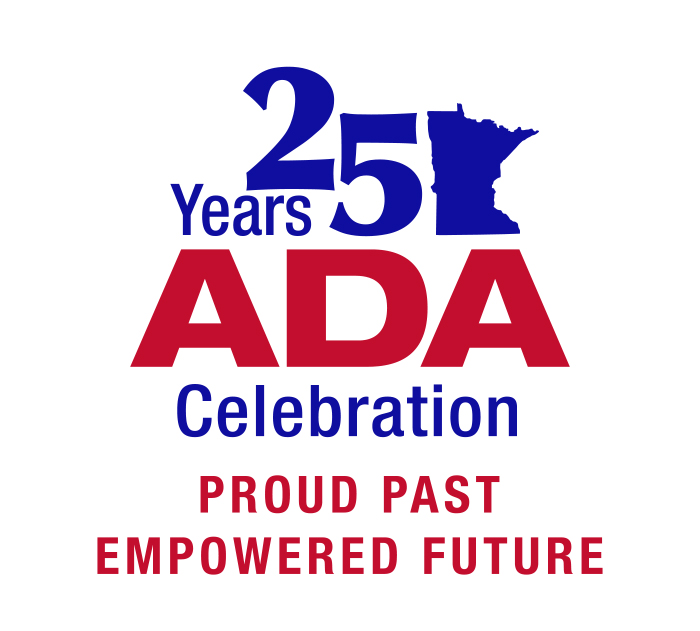 Join us on July 26 for Minnesota's premiere ADA Celebration!
MSCOD and the project partners have exciting plans for Sunday, July 26th. We are hosting the 25th Anniversary of the ADA Celebration and Family Day at the Minnesota History Center in St. Paul. Everyone is invited to the party from noon until 4:00 p.m. Admission is FREE!
The Family Day includes:
Live entertainment – A list of performers!
An open mic so YOU can tell YOUR story
Interactive arts activities
Light refreshments served
BBQ lunch is available for purchase
Reasonable accommodations provided
FREE parking and shuttle service
A portion of tpt's upcoming documentary, The ADA at 25: Disability Rights in MN, will be premiered. This celebration will be fun for the whole family. We invite you to join us for this fun filled day!
25 Days of the ADA
MSCOD is ready to celebrate the 25th anniversary of the signing of the ADA, and in the coming days will introduce you to some of the advances brought about by this ground breaking civil rights legislation. We're calling it 25 Days of the ADA.
Join in the discussion on our Facebook page, follow us on Twitter and get regular updates on our website.
You'll also see a series of ads on media websites across the state including: MPR, MinnPost, StarTribune, Duluth News Tribune, Mankato Free Press and many others. These ads will create greater awareness of some of the many advancements made possible in part by the ADA.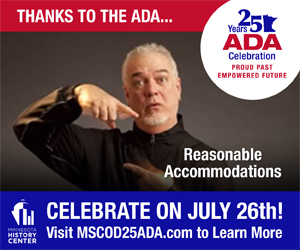 More News
About the ADA 25th Anniversary Legacy Project
The Americans with Disabilities Act (ADA) turns 25 years old on July 26, 2015. The Minnesota State Council on Disability (MSCOD) is planning a number of activities leading up to and marking this historic day.
The MSCOD ADA 25 year Anniversary Legacy Project seeks to preserve and raise awareness of Minnesota's role in the development of the ADA as well as celebrate Minnesota's disability cultures in tandem with the 25 year anniversary of the passage of the ADA.
More information about the Legacy Fund
MSCOD's Legacy Funds are administered by the Minnesota Humanities Center.
The Minnesota Historical and Cultural Grants Program has been made possible by the Arts and Cultural Heritage Fund through the vote of Minnesotans on November 4, 2008. Administered by the Minnesota Historical Society.