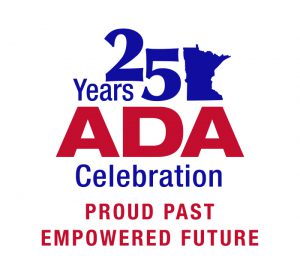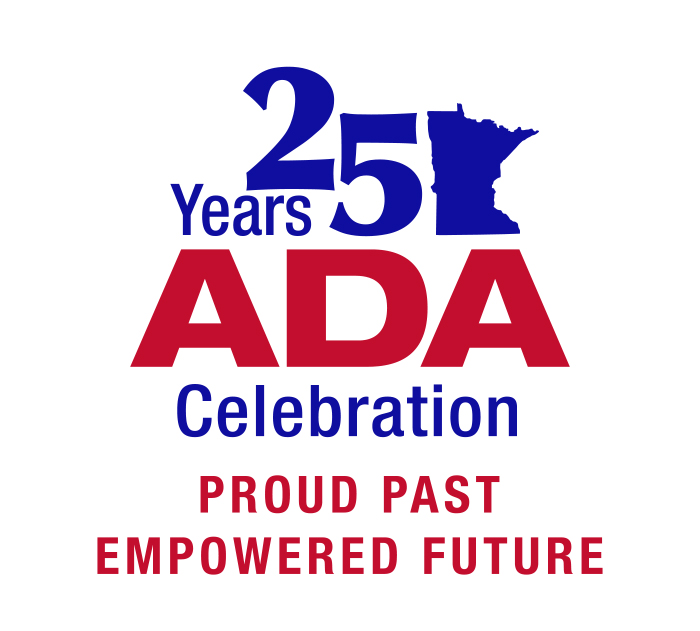 Join us next week for The ADA at 25: Minnesota Moving Forward
We are only a week away! MSCOD, the Minnesota Business Leadership Network (MNBLN) and the Minnesota Spinal Cord Injury Association (MNSCIA) have partnered to host The ADA at 25: Minnesota Moving Forward on Wednesday, October 28, 2015 from 8:30 a.m. to 4:30 p.m.
At noon, MSCOD will host an Employment Dialogue between people with disabilities, employers and former U.S. Senator Tom Harkin (author of the ADA) to discuss recruiting, hiring, promoting and retaining employees with disabilities.
Join the discussion throughout Minnesota! This event is a tpt production. It will be broadcast live on tpt and web streamed on October 28 from 12 pm – 1 pm. We invite you to gather some employees and watch this live stream program here or on tpt then have a short informal discussion (using the toolkit to be provided here) about employment for people with disabilities.
The event also includes:
MNBLN Presents: Career Fair with Private and Public Employers, including Resumé Review and Mock Interviews
MNSCIA Presents: Resource Vendor Fair with Private and Public Resource Organizations
Minnesota State Council on Disability (MSCOD) Breakout Sessions
25th Anniversary of the ADA Celebration Recap
Artists & Performers with Disabilities
Q&A with U.S. Senator Tom Harkin and Featured Employers
[Registration is closed]
ADA News
October is National Disability Employment Awareness Month. Held each October, National Disability Employment Awareness Month (NDEAM) is a time to celebrate the many and varied contributions of America's workers with disabilities. The theme for this year — which marks 70 years since the first observance — is "My Disability is One Part of Who I Am." Learn more at the Office of Disability Employment Policy website.
On Oct. 22, AuSM will bring together Minnesota's top corporate leaders, business professionals, state agencies, and autism advocates for Autism in Business.
About the ADA 25th Anniversary Legacy Project
The Americans with Disabilities Act (ADA) turned 25 years old on July 26, 2015. The Minnesota State Council on Disability (MSCOD) continues to celebrate this historic day.
The MSCOD ADA 25 year Anniversary Legacy Project seeks to preserve and raise awareness of Minnesota's role in the development of the ADA as well as celebrate Minnesota's disability cultures in tandem with the 25 year anniversary of the passage of the ADA.
More information about the Legacy Fund
MSCOD's Legacy Funds are administered by the Minnesota Humanities Center.
The Minnesota Historical and Cultural Grants Program has been made possible by the Arts and Cultural Heritage Fund through the vote of Minnesotans on November 4, 2008. Administered by the Minnesota Historical Society.