Deb Gau
Staff Writer, Marshall Independent
dgau@marshallindependent.com
Aug. 3, 2017
Copyright © Marshall Independent. Reprinted with Permission.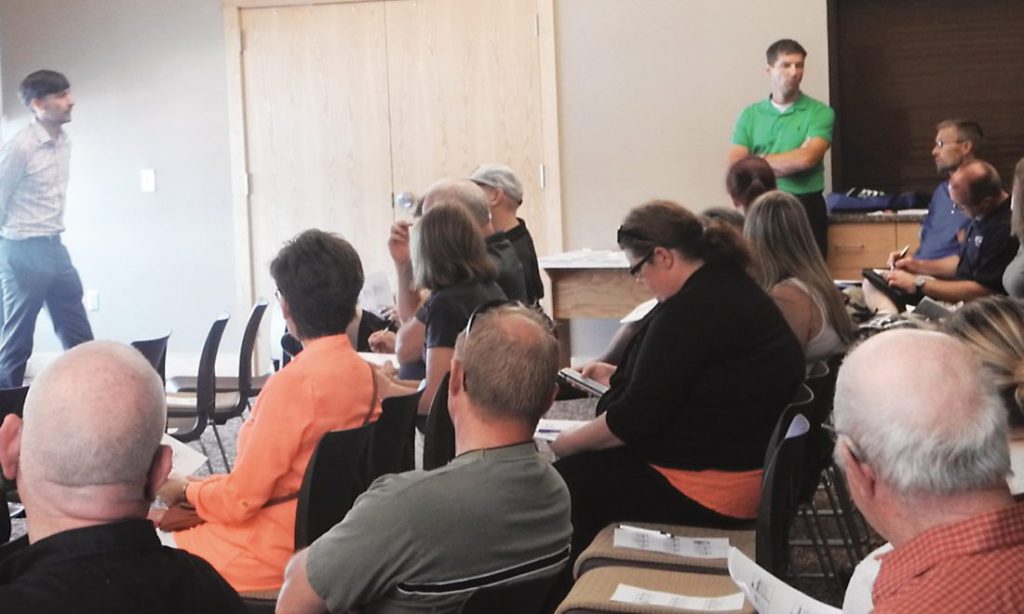 MARSHALL — Accessibility has become a hot topic in Minnesota — though not for entirely positive reasons. After a long string of lawsuits alleging violations of the Americans with Disabilities Act were filed against businesses across the state, many people are asking how to make their businesses accessible to customers with disabilities.
But speakers in Marshall on Tuesday reminded local businesspeople that accessibility isn't just about keeping potential lawsuits away. It's about equal rights.
It's really about having the same level of service for everybody, David Fenley said during a talk with Marshall area businesspeople on Tuesday. It's good business, and the right thing to do.
Fenley, an ADA/access coordinator with the Minnesota State Council on Disability, gave free presentations about accessibility and compliance with the ADA. Between two sessions, he spoke to more than 80 local businesspeople.
Fenley's talk focused on what the ADA's purpose was, and how to address some common barriers for accessibility at businesses. Making sure that people with disabilities have the same access to businesses and public accommodations as everyone else is simply a good plan, Fenley said. According to U.S. Census Bureau data, there are about 35 million people age 15 or older in the U.S. who have a disability that limits their movement. More than half of Americans age 65 and older have a disability.
Disability access came into the spotlight in Marshall in 2015, when a series of lawsuits alleging ADA violations were filed against several local businesses. Although the attorney involved with those cases has since had his law license suspended, more accessibility lawsuits have been filed by a different attorney.
Fenley acknowledged the concern over potential lawsuits. New Minnesota laws are aimed at stopping potential abuse of accessibility lawsuits under the Minnesota Human Rights Act. Businesses must now be given 60 days to address an accessibility barrier before they can be sued in state court. However, that doesn't protect businesses from federal lawsuits, Fenley said.
The best way to protect your business is to remove barriers (to accessibility), he said. Having a plan in place and chipping away at it is the best thing you can do.
The ADA requires businesses to remove accessibility barriers when it's readily achievable to do so.
The English translation for 'readily achievable' is, cheap and easy, Fenley said. For example, he said, it might be very costly and difficult for a small shop with two stories to build an elevator. But the business could still be accessible by having a catalog of items on the upper floor, or online shopping that anyone can access.
Some important ways to be accessible include having disability parking, accessible restrooms, and doors and aisles wide enough for a wheelchair to pass through, Fenley said.
There can be some confusion for businesses on what standards to meet to be accessible, Fenley said. ADA requirements, building codes, and the requirements of the Minnesota Human Rights Act are all separate things — having a building inspector's approval isn't a guarantee of ADA compliance. Fenley suggested that business owners look at Minnesota's state accessibility code, as it often goes above and beyond ADA requirements.
There is no grandfather provision to the ADA that would allow businesses to avoid complying, he said. However, there is a Safe Harbor provision, that protects businesses if they comply with ADA guidelines and the requirements are later made stricter.
You have an ongoing obligation to remove barriers under the ADA, Fenley said. When the act was passed, he said, The idea was, you'd be chipping away at this.
There are federal tax credits and other resources available for businesses trying to make access improvements. Fenley said one progressive step the Marshall Area Chamber of Commerce took was offering matching grants for businesses to make accessibility improvements.
Fenley said a silver lining in the response to all the accessibility lawsuits is increased awareness of problems with accessibility in Minnesota. It's a frustrating issue for many people, he said.
On one hand, People don't want to discriminate, he said. Many businesses are just unaware of accessibility barriers. But on the other hand, It has been 27 years since the ADA was passed — a long time to put some improvements in place, he said.
The response to the lawsuits, and the new state laws, have also given the MSCOD more of a chance to work with businesses and chambers of commerce to address disability issues, Fenley said. That deepening relationship is the beginning of finding solutions, he said.
Source: Service for all – Marshall Independent (https://www.marshallindependent.com/news/local-news/2017/08/service-for-all/)