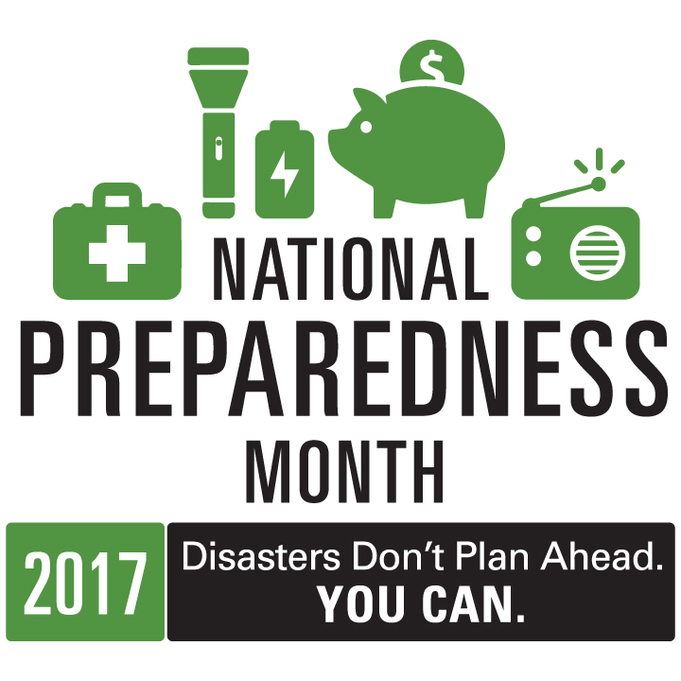 We should all take action to prepare! We are all able to help first responders in our community by training how to respond during an emergency and what to do when disaster strikes — where we live, work, and visit. The goal of National Preparedness Month (NPM) is to increase the overall number of individuals, families, and communities that engage in preparedness actions at home, work, business, school, and place of worship. This information is brought to you by Ready.gov.
Make an Emergency Plan
Make a plan today. Your family may not be together if a disaster strikes, so it is important to know which types of disasters could affect your area.  Know how you'll contact one another and reconnect if separated. Establish a family meeting place that's familiar and easy to find. Learn more about making an emergency plan.
Be Aware of Emergency Alerts
Public safety officials use timely and reliable systems to alert you and your family in the event of natural or man-made disasters. Learn about the different warning alerts you can receive and the types of devices that receive the alerts.
Check Your Insurance Coverage
The National Flood Insurance Program aims to reduce the impact of flooding on private and public structures. It does so by providing affordable insurance to property owners and by encouraging communities to adopt and enforce floodplain management regulations. These efforts help mitigate the effects of flooding on new and improved structures.
You Are the Help Until Help Arrives
Life-threatening emergencies can happen fast. Emergency responders aren't always nearby. You may be able to save a life by taking simple actions immediately. To learn what you can do, take the training You Are the Help Until Help Arrives.
Check on Your Neighbors
Comprehensive preparedness requires the whole community to participate and FEMA places tremendous value on communities that embrace a local "Neighbors Helping Neighbors" approach. Neighbors Helping Neighbors empowers community leaders to involve and educate individuals from their community about simple steps one can take to become more prepared.
Learn Important Safety Skills
In the event of an emergency, the following skills can help ensure your safety and the safety of those around you: learn first aid and CPR, learn to use a fire extinguisher, and know how to shut off utilities. Learn more about these important safety skills.
Complete an Emergency Financial First Aid Kit
After a disaster or other emergency, having access to personal financial, insurance, medical, and other records is crucial for starting the process of recovery quickly and efficiently. Taking the time now to collect and secure these critical records will give you peace of mind and, in the event of an emergency, will ensure that you have the documentation needed to start the recovery process without delay. Learn more about financial preparedness.
Visit Ready.gov to learn more about preparing for disasters.