The policy team at MCD is pleased to share progress made on its policy agenda, as well as introduce several new items. Council Building Access Specialist, Margot Imdieke Cross, provided testimony to the Senate Jobs and Economic Growth Finance and Policy committee regarding SF 937. This bill aims to modify MN building code regarding the accessibility of our public buildings and provide further clarity on obligations and responsibilities that our government has to Minnesotans with disabilities. The bill passed the committee and is heading to the floor. Look on the House side for the Commerce committee to hold hearings on the companion text, HF 772.
The Council authored two bills in both the House and the Senate this week. MCD's budget bill was authored in the House by Rep. Loeffler and in the Senate by Sen. Relph. The Council has also authored a bill for a Legacy Fund proposal to capture the legacy of Minnesotans with disabilities through multi-media production and distribution of content. Rep. Hausman authored the bill on the House side and Sen. Mathews is the chief author in the Senate. The Council expects hearings on these bills soon.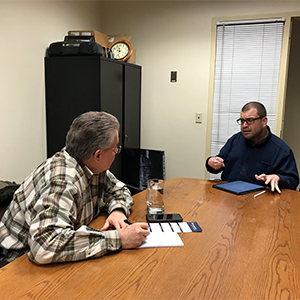 MCD staff thank Rep. Elkins of District 49B for stopping by our office and chatting about the accessibility of our digital world. We look forward to future collaboration on excellent public policy.
Finally, the Council is pleased to publicize its updated policy agenda. The document can be viewed here: 2019 public policy agenda (PDF).
Follow the Council on Disability on our website and social media to follow the status of this policy and other legislation that impacts Minnesotans with disabilities. MCD is on both Facebook and Twitter, and provides weekly updates on the legislative session on the blog hosted on its website.
Mark your calendars: The 2019 Disability Day at the Capitol is on February 19th. The Minnesota Council on Disability is a sponsor of the event. Information on the event can be found on The Arc Minnesota's website.
The Minnesota Council on Disability exists to serve people with disabilities in Minnesota through development of effective policy, training, technical resources and collaborations with public and private stakeholders. Any policy inquires can be directed to Public Policy Director Kody Olson at kody.olson@state.mn.us.