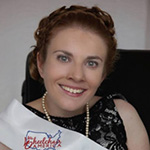 "Bringing awareness = bringing people home.
Bringing awareness = bringing people to work.
Bringing awareness = bringing people to safety."
~ Lauren Thompson
The Minnesota Council on Disability strongly supports the advocacy of Lauren Thompson, homecare advocate and MCD Region 11 Council member, who is one of the over 40,000 homecare clients struggling statewide because of the homecare crisis. Minnesota is experiencing a critical shortage of qualified caregivers, Personal Care Assistants (PCAs). Estimates place the shortage at 8,000 unfilled positions.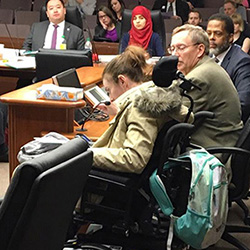 Thompson testified on Minnesota House File 2122 to the Government Operations Committee on March 12, 2019. Minutes after Thompson's testimony, the committee voted the bill through unanimously.
Lauren's testimony is available in video and PDF formats.
After years of under-investment, the bill raises the wage to $13.25 an hour, and increases paid time off and training benefits, making progress in creating a more stable homecare workforce so that Minnesotans who rely on these services can live happier, safer, and more productive lives.
House File 1225 (HF1225) establishes a new payment methodology for the Medical Assistance Personal Care Assistance program, increasing PCA wages to keep better pace with the economy.
This critically important bill is moving through the legislature. It is imperative that you CONTACT your legislators to support HF 2122. Find your legislator. Please let them know that you support independence, choice, and freedom!
Under-investments in homecare left Thompson with no choice but to live in assisted living, where the client/staff ratio is often 11 clients to 1 staff person. "I, and others like me don't have the opportunity or the freedom to live like we want to, or more importantly, even live like we should. I have gone hours waiting for care. I've had to go un-showered at times – it usually has to be about getting the necessities done. All these things can add to my physical pain, but emotionally, it's draining, too. It's hard for me to make plans to work or do anything else because I quite simply don't know when I'll be able to get out of bed in the morning," Thompson testified.
Thompson was featured in a May 2018 article in the Star Tribune by Chris Serres, which discusses how the homecare worker shortage is forcing younger adults to live in nursing facilities. "Too many people with disabilities live in inappropriate, more-expensive settings, and that makes me so sad I'm speechless," Thompson said in the article.
The Star Tribune article, "Shortage of Home Health Workers Forcing Young Minnesotans with Disabilities into Institutions,"  published on May 5, 2018, also features comments from Josh Berg, then director of Accessible Space Inc; a non -profit company that runs assisted living facilities. Berg states that the facilities were designed to provide a "bridge" to help people stabilize before returning to their own homes or apartments. In recent years, however, many people have been staying in his facilities even after they no longer need intensive services. "With the workforce challenges, they can't get their needs met in their homes," he said. "They stay because they have no other options."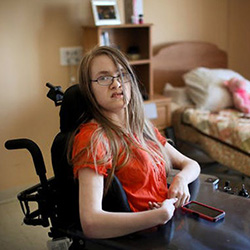 Korrie Johnson, a 25-year-old living in a nursing home surrounded by older people with dementia and other debilitating conditions, concurs. "This is no place for someone my age," said Johnson, who has cerebral palsy and limited mobility of her limbs. "I love these people, but I feel like I'm missing out on life every day that I'm stuck here."
With continued advocacy by Thompson and others, almost exactly one year after this article was published, there is progress in the form of this piece of legislation, which would benefit clients and homecare workers alike.
Independent Living is a Civil Rights Issue! Choice and self-determination are absolute rights for people with disabilities. The ability to live, work and play in the community of your choice impacts happiness, well-being, income level, and overall quality of life. Quality caregivers are essential for some folks with disabilities to achieve true choice and self-determination.
Related items that may be of interest:
A companion bill to HF2122 is House File 2536 (HF2536), which expands reimbursable activities of a PCA, which allow for PCAs to conduct driving activities within a client's service plan (bill led by MCD).
MCD is appointed to the Governor's Olmstead Subcabinet and is committed to promote choice and self-determination.
For more information on the PCA shortage and its devastating effects on the lives of Minnesotans with disabilities, Star Tribune reporter Chris Serres published this report on March 16, 2019: "Minnesotans with Disabilities Fight Barriers to Inclusion, Unfilled Promises: Nearly 3½ years after top state officials pledged to embrace integration, thousands are still living segregated and isolated lives."
WE MUST keep talking about this issue! Follow the progress of these critically needed policy changes at:
(Note: MCD does not guarantee the accessibility of outside sources.)