The Minnesota Legislative session continues to chug steadily along. This week marks the second committee deadline, which is for committees to act favorably on bills that met the first deadline in the other house. Additionally, committee targets were released, which allows the budget building process to advance to the next stage.
The Council on Disability provided testimony on three important issues this week. First, Executive Director Joan Willshire spoke in front of the Senate Human Services Reform committee regarding the activities of the Council and discussed the agency's budget proposal.
Willshire also testified with the House Transportation committee regarding HF1996, the authorization of Connected and Autonomous Vehicles (CAV) in Minnesota and the impact this technology will have for people with disabilities.
Public Policy Director Kody Olson testified with the House Capital Investment Committee regarding an accessibility project on the Minnesota Capitol Complex. HF2660 aims to bring the tunnel connecting the State Office Building and the Capitol building in compliance with the Americans with Disabilities Act.
Chief author of the bill, Representative Hamilton uses a wheelchair and understands the struggles that employees and visitors of the Minnesota Capitol Complex have when navigating the tunnel system. The slope is far too great for folks who utilize mobility devices to safely use the tunnel, if they do at all. The Council thanks the House Capitol Investment Committee for hearing this bill and urges the Senate to do the same.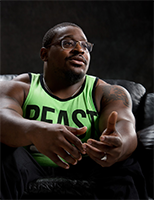 MCD concluded the week by hosting a wrap-up event of the Keep Moving Forward Legacy project. The Council thanks all participants and stakeholders who made the project a tremendous success. Learn more about the Keep Moving Forward project.
The Minnesota Council on Disability exists to serve people with disabilities in Minnesota through development of effective policy, training, technical resources and collaborations with public and private stakeholders. Any policy inquires can be directed to Public Policy Director Kody Olson at kody.olson@state.mn.us.