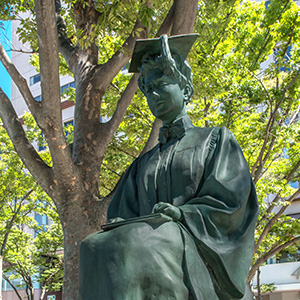 "Life is either a daring adventure, or nothing."
So said Helen Keller, a person with disabilities who became an educator, a leading humanitarian, and a co-founder of the ACLU.
Helen Adams Keller was born on June 27, 1880 in Tuscumbia, Alabama. Before the age of two, she contracted an illness that left her blind and deaf. Anne Sullivan, a recent graduate of the Perkins Institute for the Blind, began teaching Helen to communicate by finger spelling in 1887. Helen went on to formal education and graduated cum laude from Radcliffe in 1904.
After college, she focused on improving the lives of other people. She became a well-known lecturer and testified before Congress, advocating for those with vision loss. In 1920, she helped found the American Civil Liberties Union. During her lifetime, she traveled to 35 countries, inspiring millions all over the world.
We celebrate the birthday of this remarkable woman who spent a lifetime working on behalf of people with disabilities.