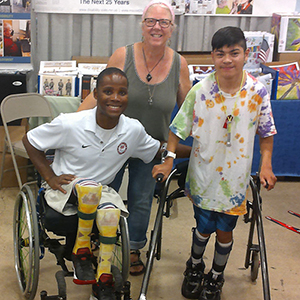 The Minnesota State Fair is committed to providing equal access and a pleasant experience for all guests. The following accessibility services are just some of what is offered to ensure that the Great Minnesota Get-Together is for Everyone.
For a full list of details and information, please visit the State Fair Accessibility Guide.
Some Helpful Information
Parking
Parking spaces designated for vehicles with a valid disabled persons parking identification are located in many State Fair lots on a first-come basis. Cost is $15 (cash only).
Learn more about parking at the Fair.
Park & Ride
Several Park & Ride lots feature accessible buses and parking spaces for people with accessible parking permits. In addition, the Oscar Johnson Arena Park & Ride lot is exclusively for persons with accessible parking permits and their companions.
Learn more about Park & Ride lots.
Wheelchair and electric mobility scooter rentals
Wheelchairs, electric mobility scooters, strollers, and wagons will be available for rent at the Fair from 7:00 a.m. to 11:00 p.m. daily.
Note: all equipment is available on a first-come basis with no guarantee of availability.
Visit the State Fair Accessibility Guide for more information.
If you would like to reserve a wheelchair or electric mobility scooter for your time at the Fair, visit HomeTown Mobility or call 877-928-5388.
ASL Interpreters
Interpreters are scheduled between 8:30 a.m. and 3:00 p.m.
View the ASL interpreter schedule in the State Fair Accessibility Guide.
If you would like to request an interpreter when you visit fair exhibitors, you will have to submit a special request.
Special requests for interpreter services will be scheduled depending on availability and should be directed to 651-288-4448 or the Admin Too Building on Cosgrove Street.
Note: The Minnesota Council on Disability will have ASL interpreters at its booth throughout the Fair.
View our ASL interpreter schedule.
More information
For more information about accessibility at the Minnesota State Fair call 651-288-4448 or email accessibility@mnstatefair.org.