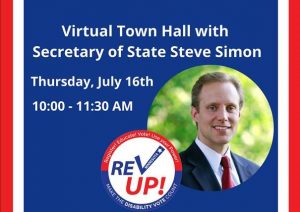 Minnesota Secretary of State Steve Simon, in partnership with REV UP! Minnesota and a broad collation of disability organizations, will hold a Virtual Town Hall on voting options for persons with disabilities.
Topics will include:
voter registration
early voting
polling place accessibility
ballot marking machines
curbside voting
other issues
The "Make the Disability Vote Count" Rev UP Minnesota Virtual Town Hall Forum is Thursday, July 16 from 10:00 AM to 11:30 AM. The goal is to ensure voters with disabilities are empowered to VOTE.
For more information, check out the Facebook event page.
Meeting Access
Join Zoom Meeting
Zoom Meeting ID: 970 6233 8289
One tap mobile number: +13126266799,,97062338289# US (Chicago)
Or join the Arc Minnesota's Facebook Live.
REV UP! Minnesota: Register! Educate! Vote! Use your Power! Make the Disability Vote Count.
Other Information
Other voting information can be found on our website.
You may also reach out to the Council on Disability at 651-361-7800 or council.disability@state.mn.us.