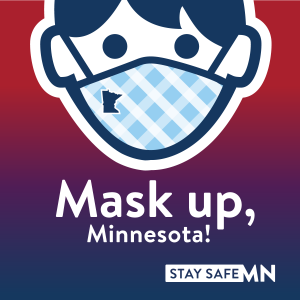 The Minnesota Council on Disability (MCD) strongly supports Governor Tim Walz's statewide masking policy to #MaskUpMN.
The COVID-19 pandemic has impacted every corner of our state and every part of our lives. Minnesota's disability community has felt the pain and grief from this disaster. We have seen far higher rates of infection in our community because of increased exposure from caregiver support and living in congregate care settings. Our essential disability services such as personal care assistants and sign language interpreters have been uncertain. We've missed milestones of all types – celebrations like graduation and birthday parties, as well as sadder occasions like funerals and good-byes. We did all this together, with the hopes that our shared sacrifice would spare thousands more from illness and death.
We've made progress in slowing the spread of COVID-19 here in Minnesota. But as we watch other states deal with rising numbers, we know the threat is still very real. We must all continue to come together in protection of our neighbors and our community.
Wearing a cloth mask is a simple and effective step we can take to slow the spread of the virus. It is something simple that many of us are able to do- and something that everyone who is able should do. Grabbing your mask as you leave your home can have an enormous impact, protecting yourself, your neighbors, and your community.
The disability community should know that if you have a medical, developmental, or behavioral need that makes it difficult to wear a face covering, there are exemptions noted. Businesses have an obligation under the Americans with Disabilities Act to provide reasonable accommodations, however, being able to enter a public space without a mask is not one of them. Alternatively, you might consider curbside pickup or other means that allow you to conduct your business safely. We know the burden is higher for our community and understanding from others will be a struggle. MCD is committed to providing educational resources for the public on this issue.
The Minnesota Council on Disability applauds Governor Walz for responding to our call to action to #MaskUpMN. This statewide policy is something that the disability community has expressed a strong desire for in order to protect our health and safety.
The Council asks all Minnesotans to continue to be compassionate and wear your mask in public indoor spaces to protect our disability community.