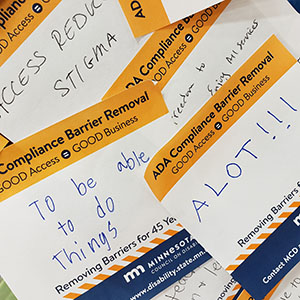 We miss the fair, the buzz, the action, the questions, the dancing, the singing, the lines, the corndogs, the pickle dogs, and the service dogs! Mostly we miss you!
Starting Wednesday, September 2, 2020, through Tuesday, September 15, the Minnesota Council on Disability, along with the disability community, will be hosting a "Virtual State Fair – Extended! Event."
You remember the big ADA sticky notes board? Over the years we asked you:
What does disability mean to me?
Write a Haiku poem
What does ACCESS mean to you?
…and this gem: Disability Rights – What's next?
You posted thousands of sticky notes to that board! If you dropped by our booth on the last weekend of the fair, you probably noticed that we had so many of your notes we had to start posting them throughout the booth. That ADA board was FULL!
It's a lot of fun, AND we really get a lot out your participation. We take your ideas and expressions back to our Council, we share what you think with decision makers, and we keep the notes as keepsakes in our workspaces!
SO, Disability Community, let's create a virtual note board! We've got GREAT questions for you this year with the theme "Keep Moving Forward." We'll be posting questions, photos, and surprises on a Facebook Event page.
Join us at the event and let us know you are attending. Then you'll get the notices, the questions, and the surprises!
See you at the Virtual Fair!