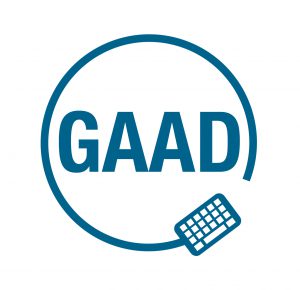 May 19, 2022 is Global Accessibility Awareness Day (GAAD), a day to consider how people with disabilities interact with technology and the digital environment.
As the COVID-19 pandemic recedes, at least in public consciousness, many people are eager to return to their "normal" day-to-day lives. For many that means a return to the office and a return to in-person gatherings and events.
In the spirit of Global Accessibility Awareness Day, we should not let our eagerness to return to the way things were cause us to forget the value of remote, and now hybrid, meetings.
Remote meetings enabled millions of people to continue working, learning, and connecting with friends and family when they couldn't leave their homes. And that same enabling power can still benefit people with disabilities, providing opportunities for engagement.
Here are some tips for hosting accessible remote meetings.
Plan for Accessibility from the Beginning
Know your audience

Offer means of requesting reasonable accommodations prior to the meeting
Consider offering regular accommodations at every meeting, such as CART (Communications Access Realtime Translation)

Know your platform

Choose an accessible meeting platform
Test the features yourself or use a trusted third party
Provide instructions for the most-used accessibility features
If there are barriers to access, supply workarounds if possible
Test your connection, video camera, and microphone prior to the meeting

Know your materials

Be able to present your materials through verbal descriptions
Anticipate questions from the audience
Work your answers into the presentation or allow for questions and answers
Provide materials in an accessible format
Hosting an Accessible Meeting
Divide hosting duties into multiple roles

No one person can do it all
At minimum:

Host
Presenter(s)
Chat moderator

Establish protocols for audience participation

Offer multiple means to participate
Make room to convey these responses to the entire group

Maintain order in the meeting

Ask that people mute when not speaking
Allow only one person to speak at a time
Ask that people identify themselves before they speak
Monitor the time to balance the presentation with participation.
Here are three more resources for holding accessible remote and hybrid meetings: