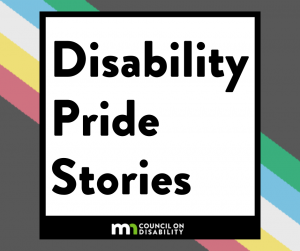 July is Disability Pride Month, a celebration of disability as an identity and culture. As part of our celebrations, we asked staff at the Minnesota Council on Disability: What does Disability Pride mean to you?
Several staff members shared their responses for the blog.
Remarks lightly edited
On this page:
Linda Gremillion, Operations and Program Director
Every disability is different, everyone experiences "pride" differently.
I used to believe pride was a spiritual crime, something to overcome because I was a willful person.
"Will," yes. I better figure out how to have some will POWER when it comes to having my mental health disability.
People tell me my broken soul as a result of Complex and Chronic PTSD (Post-Traumatic Stress Disorder) is a moral failing, that I need to "think" positively, to "change my mind" to look at the "bright side" and that "everything happens for a reason." Talk about a crime. Those messages held me hostage for many years.
I had to find my willfulness as trees asked me to drive into them while making my way home from upsetting situations. I had to find that willfulness while in a work meeting and seeing my soul fly out of my body and lurk in the corner of the ceiling because someone with power discounted good and lovely people in the room. I had to find my pride when security showed up at the doctor's office to subdue the "crazy old lady" because I wouldn't let a medical provider touch me when they didn't treat me with respect.
To find my "will" to live has been a journey I'll grapple with for the foreseeable future. I continue to set aside shame messages about mental health and live in my willful pride. The only way I can stay stable is by living in my willful pride.
Disability Pride – for me – is living without shame. Disability Pride is a living will to be alive. I'm proud because I understand. I'm proud when I get and give good hugs. I'm proud when I make someone else feel safe. I'm proud when I don't let toxic positivity erase my way in the world.
I'm proud of you, person with a mental health disability, for being alive today.
David Fenley, ADA Director
Disability Pride is complicated. One can feel pride and guilt about their disability at the same time; I do every day. Disability Pride comes from within. It comes from community and self-worth. Guilt comes from without. It comes from a world that no longer values and recognizes beauty in minds and bodies that think and move different from the dominant culture.
For my entire life society has been telling me that to be disabled is to be not fully human. For thousands of years the world has been telling everyone that disability is a bad thing. Today, disabled folks are killed, sterilized, institutionalized, marginalized, and segregated for the mere fact they do not fit current definitions of value and beauty. Minds and bodies have been commodified under a narrow understanding of what is valuable. Money is valuable. Production is valuable. Beauty is valuable. What about daydreaming, creativity, and empathy?
I know guilt because I am unable to produce at an acceptable rate.
Disability Pride has not been part of my life for very long. For decades I hid my non-apparent disability from myself and the world. I was conditioned to know disability as a bad thing.
I feel pride because I have a knack for understanding people and situations. I feel pride making folks laugh. I am proud because of my disability, but it remains complicated.
If disability was viewed with pride, there would be a lot more disabled folks. I want to be part of a society where people have no reason to deny their differences, or the differences of others. This is Disability Pride.
Trevor Turner, Public Policy Director
I recently attended the Usher Syndrome Coalition's 2022 USH Connections conference in Austin, Texas. Several hundred people converged from across the country to meet others who have Usher Syndrome just like them.
Usher Syndrome is a rare, inherited genetic disease that causes hearing loss and blindness. I have known that I have a hearing loss since I was 2 years old, but I only found out that I had Usher Syndrome when I was 19. Because the condition is rare, I never actually met anyone else with Usher Syndrome until I attended my first USH Connections conference in 2019.
For most of my life, I thought that my disability was something I had to overcome. I thought that my disability was the barrier to me living a normal life. When I found out I was going blind in 2007, I was motivated to "see the world, while I could still see the world". I studied abroad, worked in different countries around the world, and saved money for trips for new countries on my travel wish list. It was a race against time as my vision deteriorated. My identity began to conform around international travel, and I proudly did all of this despite my disability.
I know now that what I was experiencing was internalized ableism. My entire life I was told – or made aware – that my disability made me less than others, and that the world was not meant to be for a deafblind person.
When I did anything outside of what was expected of a deafblind person, I was told I was "inspiring," and I internalized the thought that my value as a person depended on my ability to exceed expectations of my disability. I never asked for help even when I needed it. I remained quiet in situations where I couldn't hear or struggled to see because I didn't want to burden other people. I didn't want them to see me as disabled.
But meeting other people with Usher Syndrome changed all of that. Being able to commiserate with people who could empathize with my experience was a game-changer. My first time on a Zoom call with 20 other "ushies" (people with Usher Syndrome) was more cathartic and gratifying than any therapy session I've ever done. Meeting other people with Usher Syndrome taught me that the barrier to a normal life was not my disability, but the society that builds those barriers. Meeting others with Usher Syndrome taught me that I've accomplished everything in my life because of my disability. I learned to be proud of how my disability has shaped me as a person.
My disability has taught me empathy and compassion for others. It has taught me to be creative and think outside of the box when solving problems. My disability has also connected me to thousands of amazing people with disabilities who bring me great joy every day of my life. My disability has taught me that we have strength in numbers, and that our community is the most powerful when we are connected. We dismantle barriers when we take pride in people that have been shaped by disabilities. Together we provide a community to all those who are on a journey towards disability pride.
During Disability Pride month, we must never forget that our disabilities may not define us, but they certainly shape who we are as a person. We should be proud of that. We also must remember that Disability Pride is about community and supporting others with disabilities.
Pride equals Community!
Sophie Strzok, Public Policy and State Fair Intern
When I think about what disability pride means to me, I think of the power in owning my stories and having them be uniquely mine. No one can take them away from me, and I feel free to share them however I feel comfortable. Many of my stories include hardship during surgeries or medical complications that I have had. But a lot of stories include the success and emotions of overcoming these hardships and proving many individuals that I can own my story and my life.
So many people who were doctors, nurses, medical professionals, and educators didn't believe in my capabilities and would make assumptions about my likelihood of succeeding in life. Some thought I wouldn't live past a certain age. Some thought I would need more medical intervention and services like a trachea or using a wheelchair the rest of my life.
I am proud to have a disability and to have the ability to own my stories and experiences that are unique to me. Empowering someone to own their stories and experiences can really give them the feeling that they not only matter, but that they are heard and that they have ownership of something no one can take away from them.
Lately, I have felt a shift in workplace customs and really have been interested in how the new work from home trends have emphasized the truths around mental health. Even on a virtual meeting, stigma exists around individuals who have mental health challenges or are not able to regulate their emotions to match the workplace standard. Turning off your camera if you need to is still not a workplace norm in every instance, and it really has exposed how individuals with mental health – or even those without – are forced to mask their emotions while working, even in online formats.
This workplace shift of allowing emotional vulnerability is still a work in progress. Hopefully, with time, the standard will drift further away from people hiding behind a mask of emotions, and instead, they feel comfortable expressing their emotions without concern of being ostracized.
Disability pride can be interpreted however one feels, but I believe that disability pride stems from each person's individual stories and experiences. Not being comfortable to live in your own body and mind can be very difficult for individuals. Unfortunately for some, this is a daily reality.
The workplace can be very toxic for individuals if they feel they aren't able to be themselves. This is not exclusive to the workplace: a multitude of institutions that have stigma or assumptions about people with disabilities can create barriers for people just trying to live their best life.
Not feeling heard or fully accepted in society is still a truth that exists for many, including myself, and it ends up being a constant need to survive and fight to share what is needed.
In today's society emotional vulnerability is still stigmatized. If individuals like me are not allowed to emote through the stories and experiences that got them to where they are, it makes the individual feel lessened and no longer valued in society.
Let's change that.