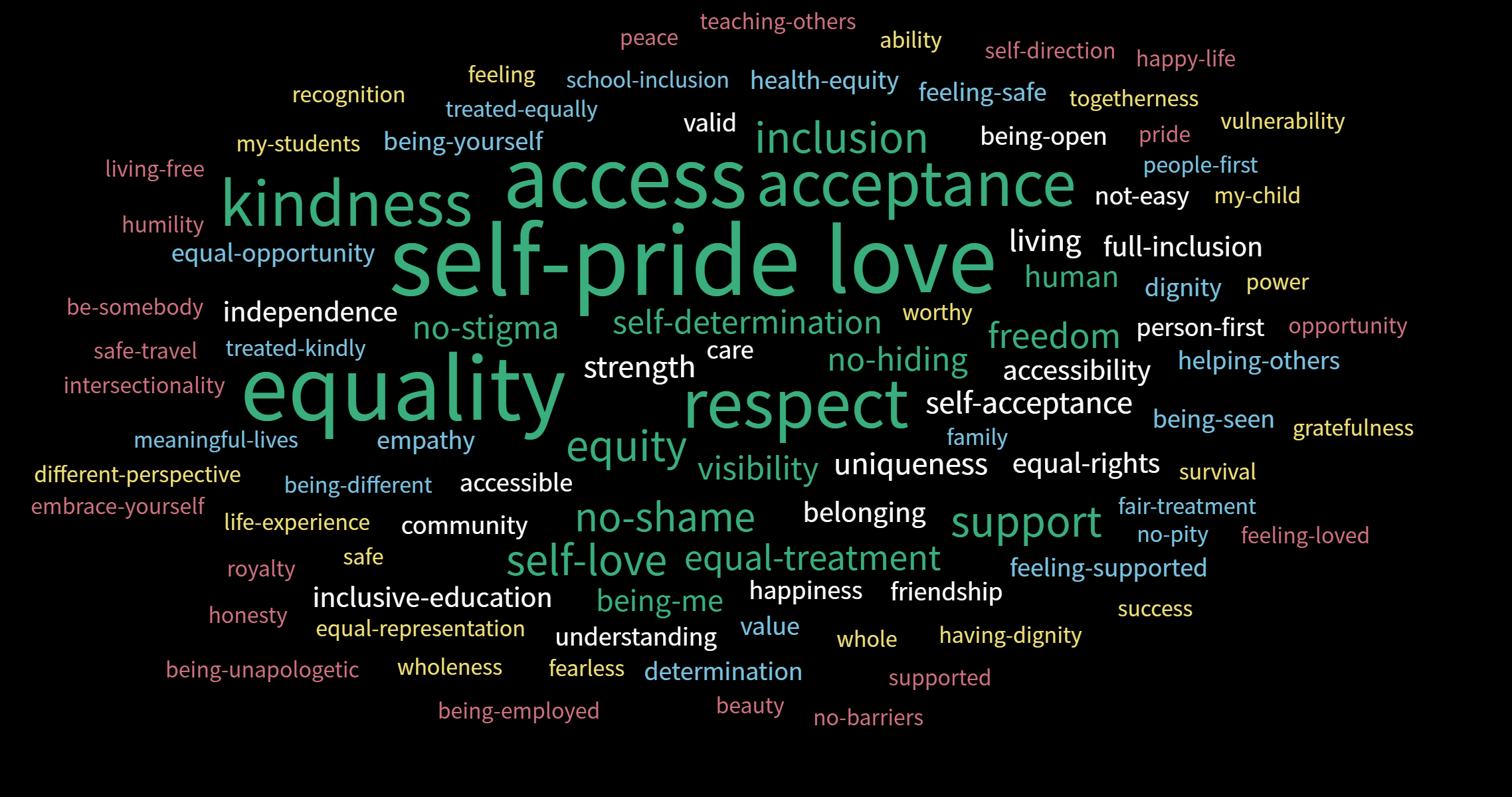 Note: You can select the image for the full size.
Your responses are in! During the 12 days of the Minnesota State Fair, more than 350 people answered our booth question: "What does Disability Pride mean to you?" We were impressed by the number of responses. We sincerely appreciate the openness and honesty of your answers.
We created a word cloud to represent the responses. The larger a word appears in the cloud, the more often people included it in their answers. From the 350 responses, we list 136 keywords that give insight into what Disability Pride means to you.
Most Common Responses
The 10 most common words found in the responses were:
Self-Pride
Love
Equality
Access
Respect
Kindness
Acceptance
Feeling Supported
Self-Love
Inclusion
Language helps shape our world, and the responses we collected tell us one thing for certain: Disability Pride is complex. As we continue to explore topics like this, we encourage others to do the same.
To give you a fuller idea of what Disability Pride means, we list the remaining keywords in alphabetical order.
Remaining Keywords in Alphabetical Order
ability
accessibility
accessible
allyship
be-somebody
beauty
being-accepted
being-believed
being-capable
being-different
being-employed
being-helpful
being-me
being-open
being-seen
being-unapologetic
being-yourself
belonging
bravery
care
celebrating
community
determination
different-perspective
differently-abled
dignity
embrace-yourself
empathy
equal-access
equal-opportunity
equal-representation
equal-rights
equal-treatment
equity
fair-treatment
family
fearless
feeling
feeling-accepted
feeling-loved
feeling-represented
feeling-safe
freedom
friendship
full-inclusion
gratefulness
happiness
happy-life
having-belonging
having-dignity
having-health
having-resources
having-support
health-equity
helping-others
honesty
human
humility
inclusive-education
independence
interdependence
intersectionality
language-access
life-experience
living
living-free
meaningful-lives
my-child
my-students
my-voice
no-barriers
no-fear
no-hiding
no-judgement
no-judgment
no-pity
no-shame
no-stigma
not-conforming
not-easy
not-hiding
openness
opportunity
others
peace
people-first
person-first
power
pride
pride-in
receiving-help
recognition
royalty
safe
safe-travel
school-inclusion
self-acceptance
self-determination
self-direction
self-respect
signing-freely
strength
success
support
supported
survival
taking-care
teaching-others
tenacity
to-be
togetherness
treated-equally
treated-kindly
undeniable-access
understanding
understood
uniqueness
universal-design
valid
value
visibility
vulnerability
whole
wholeness
working-hard
worthy