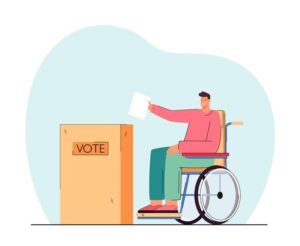 A message from David Dively, Executive Director for the Minnesota Council on Disability:
The 2022 mid-term election is November 8th. This year – thanks to redistricting – more offices and legislative seats are up for a vote.
Did you know? People with disabilities make up the largest voting bloc in Minnesota. Now is the time to make your voices heard. You can:
Note: If you have a print disability, you may request an accessible absentee ballot.
If you haven't registered to vote by the time you go to your polling place, Minnesota offers same-day registration.
Be sure to visit the Secretary of State's website to:
learn how to register to vote.
search for your polling (voting) place.
review a sample ballot for all the candidates and ballot questions you will vote on.
One of the most powerful ways to advocate is to vote for candidates who:
share your values,
advance issues that matter to you, and
support disability rights.
Before you vote, it's a good idea to consider any accommodations you may need. Review our voting information for people with disabilities.
I also encourage you to research the candidates and the issues they support. Use the My Ballot feature to find contact information for your candidates and ask them their stance on:
disability issues
disability services
disability rights
any other issues that interest you
Every election is important. But this year is one of the most significant non-Presidential elections in recent memory. Outcomes will decide:
who controls the state's House and Senate,
the state's legislative leadership,
who becomes Governor, and
who controls the House and Senate in Washington, D.C.
I ask that you join me in making a plan to vote, researching the candidates and issues, and casting a vote in this year's election.