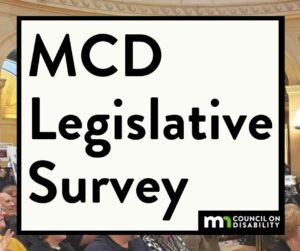 Over the past two months the Minnesota Council on Disability (MCD) surveyed members of the disability community to learn more about the issues that are important to them.
We received 286 responses. Thank you to everyone who took part. The survey asked participants to:
select the issues MCD should work on in the 2023 legislative session.
tell us how these issues affected them as members of the disability community.
Read about how these issues affect people with disabilities
The results will:
help MCD shape our 2023 public policy agenda.
inform our discussions with legislators about what matters to Minnesotans with disabilities.
What Should MCD Work On in the 2023 Legislative Session?
Note: Participants were able to select more than one response.
The results are listed in descending order by percentage.
56% selected Human Services (county services, waiver supports)
47% selected Disability/Human Rights
36% selected Accessible/Affordable Housing
33% selected Homecare (PCAs)
32% selected Healthcare
31% selected Employment
30% selected Health insurance (health care affordability)
27% selected Accessible Transportation (disability parking, accessible vehicles)
24% selected K-12 Education (special education)
23% selected Public Transportation
21% selected Public Accessibility (building access, restroom access)
18% selected Accessible State Parks
16% selected Higher Education
4% selected COVID-19
7% selected Entrepreneurship/Business Ownership Access