Current base budget: $1,038,000 per fiscal year + budget restoration = $2,980,000
Bills: 2022 HF 3392 Moller, Hamilton; 2022 SF3275 Hoffman, Abeler
This proposal seeks to restore the resources and expand the capacity of the Minnesota Council on Disability (MCD), which has served the State of Minnesota since 1973. The request to restore operational funds would bring our services to the level mandated by our founding statute. Our agency is small but delivers an outsized impact for the disability community. This proposal is minute compared to the resources and capacity of other state agencies. If passed, the restored budget will deliver a high return on investment, adequately supporting our ability to serve people with disabilities, a historically marginalized community.
We currently have several public-facing vacancies we cannot fill with our existing budget:
Additional specialized advisors to respond to the COVID-19 pandemic and racial justice movement
A civic-public engagement director to meet the demand for these specialized advisors
Three additional supporting staff to assist with statutory duties
A disability legal advisor to provide judicial branch services and track important court cases
Our current staff is wearing several hats to meet the high demand for these services. Without more staff to alleviate the increased workload and meet statutory requirements, MCD risks:
staff burnout,
loss of expert retention, and
loss of disability policy resources
In some cases, we hold the only classified position in the State to deliver statutorily required services. Without a fully staffed and resourced Minnesota Council on Disability, the progress of disability equity in the State of Minnesota may slow or even reverse.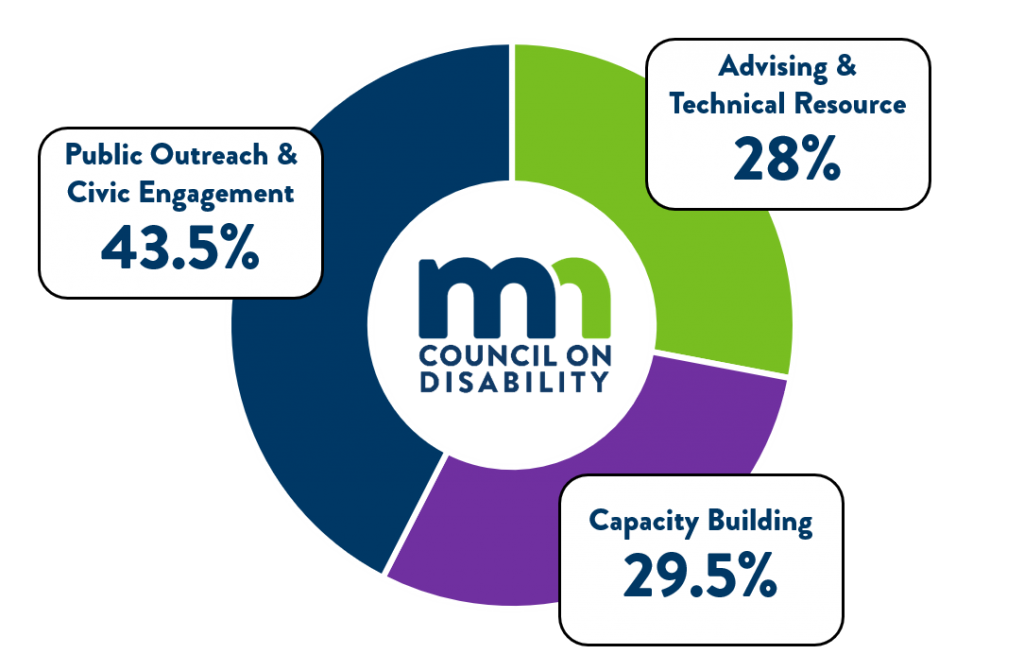 Reasons for restored budget and capacity building:
MCD represents and advocates for over 1 million Minnesotans with disabilities.
This capacity building is based on a 2020 audit of statutory mandates.
Since 2004, MCD has gone through several budget reductions, limiting or reducing our capacity.
MCD budget has not kept up with the cost of living and inflation over the past 30 years.
Minnesota's cabinet agencies often rely on MCD for our policy & technical expertise.
With current staffing levels, MCD often must choose between advising our state government or providing programming for the public, despite our statutory mandate to do both.
MCD is the only independent state agency that represents all Minnesotans with disabilities.