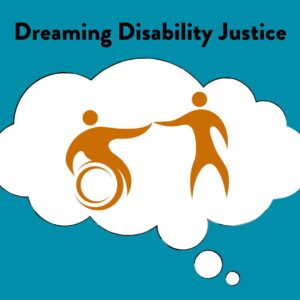 Dreaming Disability Justice is a series of virtual convenings held on Zoom. These convenings bring the Minnesota community together to learn about and – together – build on disability justice. In each convening, we dream of what each Disability Justice principle can bring us in our fight for liberation.
The next virtual Dreaming Disability Justice (DJ) Convening for Minnesota is:
Thursday, May 18, 2023, from 6:00 to 7:30 pm Central Time.
Event Zoom link
Passcode: 748094
Phone: 312-626-6799
Webinar ID: 850 7256 2013
Join us in dreaming the future of disability justice together! No registration required. ASL interpretation and CART captioning will be available.
This Dreaming DJ Convening is the fourth in a series of convenings curated by Bush Fellow, Mai Thor. As a Bush Fellow, Mai seeks to embed disability justice in the work of larger justice and equity movements. Mai's work as a fellow is grounded in the ten principles of disability justice created by Sins Invalid.
Please email Mai for any further questions, concerns, or access needs you may have for the convenings.
Dreaming Disability Justice continues virtually on the following dates:
Thursday, August 17, 2023, from 6:00 – 7:30 pm Central
10 Principles of Disability Justice — Sins Invalid
10 Principles of Disability Justice
The Minnesota Council on Disability (MCD) is proud to sponsor these events. Please follow MCD on Facebook and Twitter where future Dreaming Disability Justice convenings will be shared, as well as updates on the movement.