February is Black History Month. This year to celebrate, the Minnesota Council on Disability will feature Black historical figures and leaders with disabilities. Check this page throughout the month for updates.
On of the most prominent figures of Black liberation, Harriet Tubman made many trips on the Underground Railroad to free 60-70 enslaved people. As an enslaved teenager, Harriet was struck in the head with a two-pound weight by her enslaver. This resulted in Tubman developing "sleeping spells," which today are categorized as epileptic seizures and hypersomnia.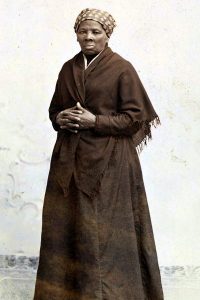 Artist, hero, and Black Disability activist! Lois Curtis helped changed the course of Disability rights. Lois was institutionalized at age 11 and held at a hospital for years, even after her treatment team determined she was able to live in the community.
The state of Georgia did not want to give her the financial supports needed to live independently. Lois advocated relentlessly and eventually the case was brought to the Supreme Court.
Known as the Olmstead decision, the Supreme Court ruled that unjustified segregation of people with disabilities violated the Americans with Disabilities Act. At age 29, Lois was finally able to receive services in her community!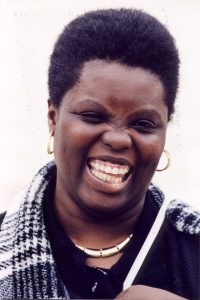 Roger Demosthenes O'Kelly
Roger was born in 1880 in North Carolina and as a child contracted Scarlet Fever. As a result, he became Deaf a few years later. He attended the North Carolina School for Colored Deaf and Blind, after being denied admission at Gallaudet based on the color of his skin.
He communicated with the hearing world through writing on note pads and eventually earned several degrees, including one from Yale. O'Kelly would go on to establish a lucrative law practice, where he served the Black community.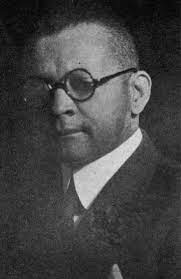 Brad Lomax had a pivotal role in building a bridge between civil rights and disability rights.
Lomax helped found the Black Panther Party's Washington DC chapter in 1969. Around the same time, Brad was diagnosed with Multiple Sclerosis and began using a wheelchair.
Brad became a key figure in the disability rights movement when he joined the 504 Sit-ins. Section 504 of the Rehabilitation Act is a civil rights law that prohibits discrimination on the basis of disability. Lomax brought in the support of the Black Panthers, and they provided meals and other necessities to those participating in the sit-ins.
Brad's actions helped pave the way for monumental changes for disability rights.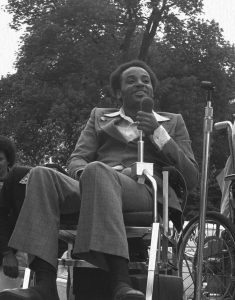 Fannie Lou Hamer was born in 1917. the youngest of 20 siblings. Passionate about Black liberation, she is a civil rights activist who fought for African Americans' right to vote.
In addition to living with the effects of Polio, Hamer had kidney damage and a blood clot. She also had a limp – a result of being beaten in jail.
Hamer advocated for women in politics and helped form the Mississippi Freedom Democratic Party in 1964.
She died in 1977, but her legacy and contributions still inspire generations.
Jazzie Collins was a powerful transgender woman who fought for the rights of people with disabilities, the LGBTQ+ community, and people of color. Based in San Francisco California, Jazzie was a trailblazer who advocated for marginalized folks everywhere.
She spoke openly about being HIV positive and served on the LGBT Aging Policy Task Force and the Senior and Disability Action organization.
Her legacy lives on through the first LGBT homeless shelter named after her, called Jazzie's Place.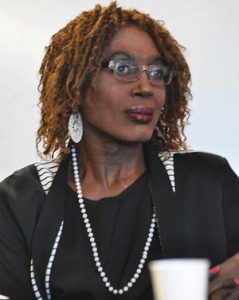 Dr. Nathie Marbury was a powerful Black disabled leader! Dr. Marbury was passionate about Deaf culture and channeled this through her work as an advocate and teacher.
Throughout her life, she became the "first Black, Deaf, woman" to do many things. Marbury completed the National Leadership Training Program for the Deaf at California State University, Northridge, taught at the Kendall Demonstration Elementary School for the Deaf, and was appointed to the Board of the National Association of the Deaf.