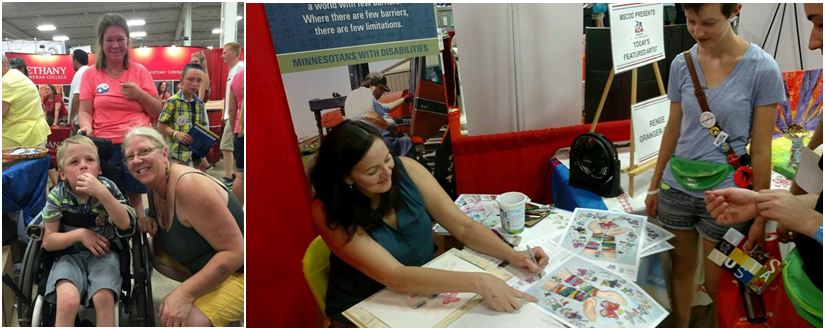 MSCOD (Minnesota State Council on Disability) was busy last summer at the great Minnesota get-together. An extra-large booth in the Education building helped us not only give out disability related resources, but also celebrate and promote our 25th ADA Anniversary Legacy activities. It was a fun-filled two weeks featuring special guests, commemorative art signings, survey distribution, information requests, and referrals.
Special Guests
The MCD booth featured many special guests for fairgoers to meet. Many of our state commissioners joined us, including:
Matt Massman, Department of Administration
Kevin Lindsey, Department of Human Rights
Lucinda Jesson, Department of Human Services
Ken Peterson, Department of Labor and Industry
Brenda Cassellius, Department of Education
Mona Dohman, Department of Public Safety
Tom Landwehr, Department of Natural Resources
We were also honored to be joined by:
Minnesota Lt. Governor Tina Smith
Darlene Zangara and Kristin Jorenby, Olmstead Implementation Office
Wheelchair Minnesota 2015 Angelique Lele
Joseph Baird, Guitarist
The Amazing Jeffo – The World's Only Blind Magician
Alec Sweazy, Accordionist
Tony Wentersdorf, Autoharpist
Commemorative Art Signings
MCD put a call out to area artists to create artwork honoring the 25th Anniversary of the ADA. Free posters of the artwork were given out at various events, including the State Fair. The posters were extremely popular, and the artists joined us at our booth to sign their posters for fairgoers. These artists include:
Josh Paisley
Renee Granger Smith
Michelle Morine-Chapa
Annie Young
All of this amazing commemorative artwork can be found at 25th Anniversary Commemorative Posters.
Other Activities
MCD also had an area designated for people to take our Employment Survey. Paper copies were made available for those who wanted to take the survey at the fair, although we also gave out slips of paper with a URL to the survey so people could take it online when they got home.
Fairgoers also participated in our post-it note survey. Participants wrote their answers on post-it notes, and placed them on our "25 ADA" wood carving, which was displayed at all of our 2015 events. We received many responses, such as:
What words describe Disability Culture for you?
Acceptance
Access
Equality
What do you want to say about employment for people with disabilities?
Disabled does not mean incapable
Equal opportunity for excellence
We all have something to contribute
The Minnesota Historical and Cultural Grants Program has been made possible by the Arts and Cultural Heritage Fund through the vote of Minnesotans on November 4, 2008. Administered by the Minnesota Historical Society.
Visit http://www.mscod25ada.com/project-partners/ for a full list of partners.
Download the 2015 State Fair Update (PDF)