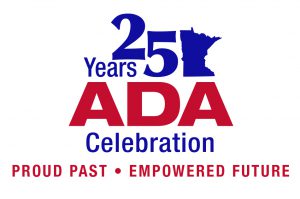 Note: Information related to the 25th ADA Celebration has been archived for informational purposes only. It was last updated December 2015 and still references our previous name: Minnesota State Council on Disability or MSCOD.
July 26, 2015 marked the 25th anniversary of the passage of the Americans with Disabilities Act (ADA). This historic occasion called for a national and local celebrations. The Minnesota State Council on Disability (MSCOD), along with the generous support of project partners, lead the charge in Minnesota.
Established in 1973 by the state legislature, MSCOD was created to advise the governor, state agencies, state legislature, and the public on disability issues. It is MSCOD's mission to advocate for policies and programs in the public and private sectors that advance the civil rights of Minnesotans with disabilities.
MSCOD received a grant through the Legacy Amendment's Arts & Cultural Heritage Fund, which was used in partnership with the disability community to bring you a series of important initiatives and events which were intended to:
Celebrate the 25th Anniversary of the ADA.
Raise awareness of the disability culture in Minnesota.
Celebrate Minnesota's role in the passage of the ADA, the cornerstone civil rights law for the disability community.
Events and activities included:
Through the 25th Anniversary activities, MSCOD and its project partners strive to:
Encourage Minnesotans to recognize the importance of the disability community and culture.
Help Minnesota employers gain greater understanding of the barriers to employment people with disabilities face, and the unique talents, strengths and abilities people with disabilities bring to the workplace.
Share a more complete picture of the Americans with Disabilities Act with Minnesotans, and its 25-year impact on our community.
Within these pages you'll find extensive information about events and activities, ADA history, Minnesota milestones since the ADA, and recent news pertaining to the ADA and the disability community.
If you would like more information or have questions, please contact us.
Learn more about the Legacy Fund.
Legacy Funds for the 25th Anniversary of the ADA were appropriated to MSCOD and are administered by the Humanities Center.
Archives of event