Notice: This page contains information or announcements from third parties for the benefit of our audience. MCD is not responsible for this information, nor can we guarantee its accuracy or timeliness.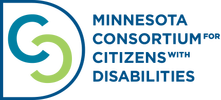 Advocacy Training
Presented by: Minnesota Consortium for Citizens with Disabilities
Save the Date: January 23, 2018
Time: 9:00am to 2:30pm
Cost: $20.00 – Price includes lunch voucher
MNDOT Cafeteria
395 John Ireland Blvd
Saint Paul, MN 55155
Learn, Grow, Advocate
Join us for a one-of-a-kind advocacy training session hosted by MNCCD.
For more information go to: www.mnccd.org and click the "Advocacy" tab. Or contact jo@mnccd.org.