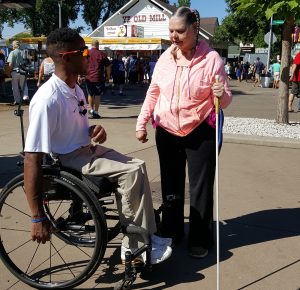 The Minnesota State Fair works to provide equal access and a pleasant experience for all guests. Here are some of the accessibility services the State Fair offers to ensure that the Great Minnesota Get-Together is for Everyone.
For full details and information, please visit the State Fair Accessibility Guide. Contact the Minnesota State Fair with your accessibility questions:
On this page:
Transportation and Parking
For the most up to date information on:
On-site Parking
Accessible Park and Ride
Other Park and Ride options (not guaranteed accessible)
Transit Routes
Express Bus Service
Metro Mobility
Ride Share Apps and Taxi Services
Passenger Drop-off Areas
Access information on transportation and parking
Notice: Parking access is troublesome at the State Fair. We continue to work with the Minnesota State Fair organization to address this issue.
Renting Mobility Equipment
The following mobility equipment will be available for rent daily from 7:00 am to 11:00 pm daily. Visitors also have the choice to rent mobility devices for half days.
Wheelchairs
Electric mobility scooters
Strollers
Wagons
Note: All equipment is available on a first-come basis with no guarantee of availability.
If you would like to reserve a wheelchair or electric mobility scooter, visit HomeTown Mobility or call 877-928-5388.
Service Animals
Service dogs are allowed on the fairgrounds. Service dogs are dogs individually trained to do work or perform tasks for a person with a disability. Dogs whose sole function is to provide comfort or emotional support do not qualify as service animals.
Note: During the Minnesota State Fair, pets are not allowed on the fairgrounds, except for animals approved as part of an exhibition.
Service animals at the State Fair
Sensory Sensitivity Information
ASL Interpreting Services
The State Fair offers ASL (American Sign Language) interpreters daily between 9:00 am and 5:00 pm.
If you would like to request an interpreter when you visit fair exhibitors, you must submit a special request. State Fair personnel will schedule special requests for interpreter services based on availability.
To make requests, call 651-288-4448 or visit the Admin Too Building on Cosgrove Street.
Note: The Minnesota Council on Disability will have ASL interpreters at its booth throughout the State Fair. Schedule coming soon
Grandstand Shows