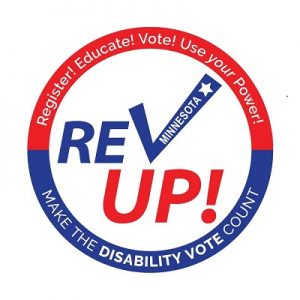 Local Elections, Voting Rights & Accessibility and People with Disabilities
Date: September 14, 2021
Time: 6:30 pm to 8:00 pm
On Tuesday, September 14, at 6:30 pm, Rev Up MN will host a virtual forum entitled "Local Elections, Voting Rights & Accessibility for People with Disabilities." The presentation will focus on:
voting in local elections,
who is eligible to vote,
how to vote,
voter accessibility, and
Ranked Choice Voting for voters who live in Minneapolis and St. Paul.
CART captioning and ASL interpreting services are generously sponsored by the Minnesota Commission of the Deaf, Deafblind, & Hard of Hearing.
We hope you can join us for this timely and informative conversation on the importance of voting during the upcoming election.
Thank you for your participation. Registration is closed.