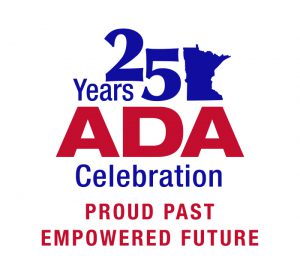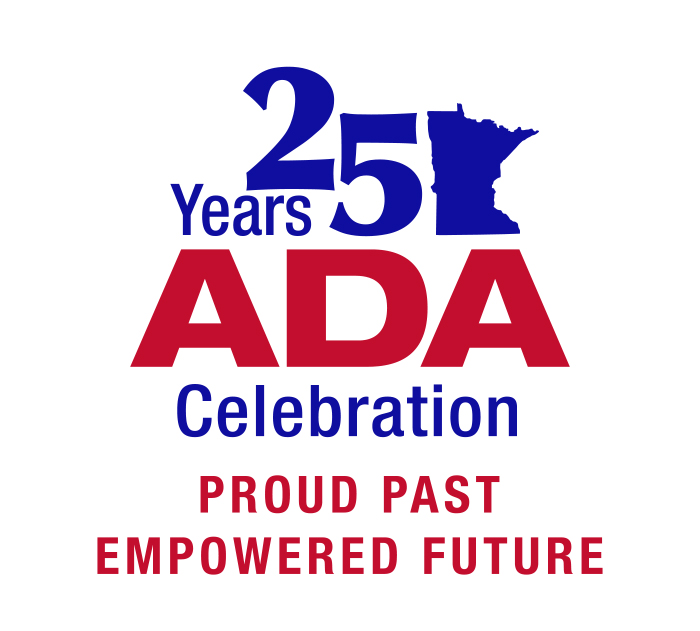 Celebrate 25 Years of the ADA
The Disability Community, in partnership with Twin Cities Public Television (tpt) and MSCOD, proudly present Celebrate 25 Years of the ADA, created by tpt journalist, David Gillette. Mr. Gillette creates a short, engaging video to commemorate the 25th Anniversary of the passage of the ADA into law. We trust this whiteboard video essay offers a fun way to explore an overview of the ADA's impact on the everyday lives of people with disabilities and the obstacles they face in the workplace.
(Audio described version coming soon.)
THE ADA LEGACY PROJECT: MOMENTS IN DISABILITY HISTORY 29
Reflections on ADA's 25th Anniversary
At the 20th Anniversary Celebration of the ADA, former Senator David Durenberger said that the federal legislation had roots in Minnesota law and policy that date back more than 50 years. He also recalled that many people, businesses and advocacy groups said the ADA couldn't be passed for costs and practicality reasons. When told that companies and government couldn't afford to make changes outlined in the ADA, Senator Durenberger's response was 'We can't afford not to do it.'
Senator Durenberger and others reflect on the ADA 25 years later in the latest installment of Moments in Disability History. To read more, please visit the Minnesota Governor's Council on Developmental Disabilities website. The ADA Legacy Project "celebrates the impact of the Americans with Disabilities Act on disability rights, and honors the contributions of individuals with disabilities and their allies who persevered in securing the passage of this landmark civil rights legislation."
SAVE THE DATE: Join us on July 26 for Minnesota's premiere ADA Celebration!
MSCOD and the project partners have exciting plans for Sunday, July 26th. We are hosting the 25th Anniversary of the ADA Celebration and Family Day at the Minnesota History Center in St. Paul. Everyone is invited to the party from noon until 4:00 p.m. Admission is FREE!
The Family Day includes:
Live entertainment
An open mic so YOU can tell YOUR story
Interactive arts activities
Light refreshments served
BBQ lunch is available for purchase
Reasonable accommodations provided
FREE parking and shuttle service
A portion of tpt's upcoming documentary, The ADA at 25: Disability Rights in MN, will be premiered. This celebration will be fun for the whole family. We invite you to join us for this fun filled day! Stay tuned for more information.
ADA Conference Venue Announced!
On Wednesday, October 28, 2015, MSCOD, along with the project partners, will host an ADA Celebration/Training Conference at the Minneapolis Convention Center (1301 2nd Ave S). This conference will focus on employment, technology, advocacy, and community living. Also, in partnership with the Minnesota Business Leadership Network (MNBLN), we are excited to announce that the event will include a career fair for people with disabilities.
The conference will feature speakers and informative breakout sessions. The noon hour keynote program will be broadcast live statewide on Twin Cities Public Television (tpt) including participation from communities across the State of Minnesota. Details are being finalized and will be announced soon. Stay tuned!
Share your opinions about MN's Olmstead Plan
Minnesota's Olmstead Subcabinet would like to hear from you. They need your comments and opinions as they revise and reshape the goals in the State's Olmstead Plan.
Comments are accepted at any time throughout the year, however, comments submitted by Friday, June 19, will be reviewed by the teams that are currently revising the Plan.
There are several ways to submit your comment:
Online at mn.gov/Olmstead. Click "Participate" and follow instructions for our online form.
Mail to the Olmstead Implementation Office, 400 Sibley Street, Suite 255 St. Paul, MN  55101
Call 651-296-8081
Not sure what to share? All comments are welcome, but the questions below may be helpful. Tell them your ideas for or experiences with:
Barriers with trying to get disability services
Improving choices for people with disabilities
Improving opportunities for making informed choices about services, housing, employment and education
How to improve services for people with disabilities
How to measure outcomes of Minnesota's Olmstead Plan
Share your point of view on the ADA!
There is still time to be a part of the future of the ADA in Minnesota! MSCOD contracted with the Improve Group, an external research group from Saint Paul, to study what the employment landscape in Minnesota looks like now that ADA has been law for 25 years. We want to hear from people with disabilities who are employed or seeking employment, to learn how the ADA has impacted their job search and ability to work. We also want to hear from employers regarding how the ADA has impacted hiring practices.
The survey is completely anonymous and can be found here: [The survey is now closed. Thank you for your participation.]
Please share it with everyone!
ADA News
About the ADA 25th Anniversary Legacy Project
The Americans with Disabilities Act (ADA) turns 25 years old on July 26, 2015. The Minnesota State Council on Disability (MSCOD) is planning a number of activities leading up to and marking this historic day.
The MSCOD ADA 25 year Anniversary Legacy Project seeks to preserve and raise awareness of Minnesota's role in the development of the ADA as well as celebrate Minnesota's disability cultures in tandem with the 25 year anniversary of the passage of the ADA.
More information about the Legacy Fund
MSCOD's Legacy Funds are administered by the Minnesota Humanities Center.
The Minnesota Historical and Cultural Grants Program has been made possible by the Arts and Cultural Heritage Fund through the vote of Minnesotans on November 4, 2008. Administered by the Minnesota Historical Society.