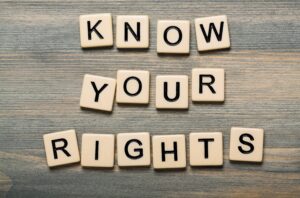 In order to help you understand your rights and responsibilities, we provide a list of federal and state laws and regulations that impact people with disabilities.
Understanding Your Rights & Responsibilities (PDF)
Americans with Disabilities Act (ADA)
The Americans with Disabilities Act gives civil rights protections to individuals with disabilities similar to those provided to individuals on the basis of race, color, sex, national origin, age, and religion. It guarantees equal opportunity for individuals with disabilities in public accommodations, employment, transportation, State and local government services, and telecommunications.
Americans with Disabilities Act
Disability Parking Laws
Minnesota's disability parking laws and procedures make businesses and public buildings more accessible to people with mobility disabilities.  For more information on the disability parking laws, refer to the following Minnesota statutes:
Learn more about Disability Parking.
Section 503 of the Rehabilitation Act of 1973
On August 27, 2013, the U.S. Department of Labor's Office of Federal Contract Compliance Programs (OFCCP) announced a Final Rule that makes changes to the regulations implementing Section 503 of the Rehabilitation Act of 1973, as amended (Section 503), at 41 CFR Part 60-741. An overview of the Section 503 regulations on OFCCP's website or on the Federal Register site, when they are published.
Fact Sheet: Final Rule on Section 503 of the Rehabilitation Act of 1973 (PDF)
Human Rights Act
The Minnesota Department of Human Rights (MDHR) is a neutral state agency that investigates charges of illegal discrimination, ensures that businesses seeking state contracts are in compliance with equal opportunity requirements, and strives to eliminate discrimination by educating Minnesotans about their rights and responsibilities under the Minnesota Human Rights Act (MHRA).
Air Carrier Access Act
The Air Carrier Access Act prohibits discrimination on the basis of disability in air travel.   The Department of Transportation has a rule defining the rights of passengers and the obligations of airlines under this law. This rule applies to all flights of U.S. airlines, and to flights to or from the United States by foreign airlines.