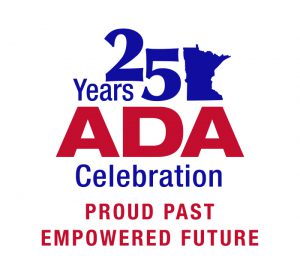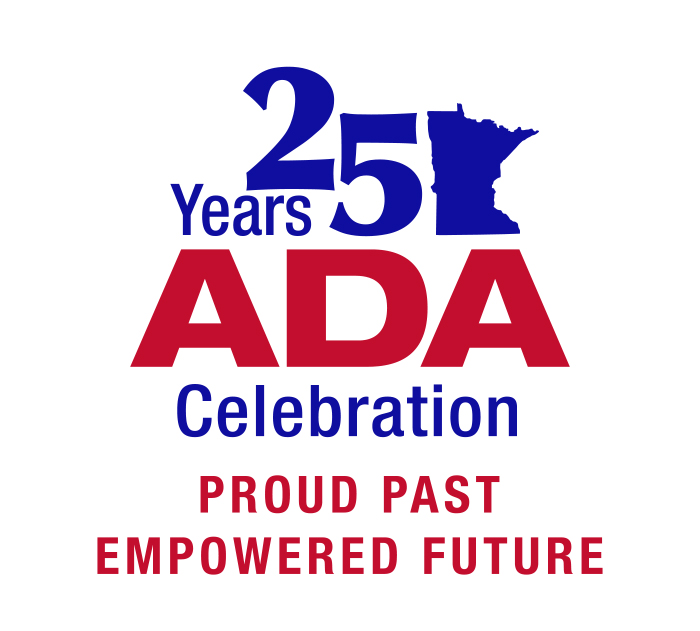 Special Announcement
We are happy to announce that Governor Mark Dayton will be joining us on Sunday at the Minnesota History Center for the 25th Anniversary of the ADA Family Day! Governor Dayton will arrive at 2:00 P.M. to provide welcoming remarks and present the proclamation.
tpt Documentary to Premiere This Sunday
The ADA at 25: Disability Rights in Minnesota is a people's story of a grass roots movement that led to one of the major pieces of civil rights legislation in US history. Issues that motivated this effort were driven by stigma, employment and accessibility – issues that are still significant today. This program shows viewers what is possible so they can overcome their own stereotypes, that jobs and accessibility are not only governed by laws but by public perception.
Premiere: Sunday, July 26 at 5:30 P.M. on tpt Channel 2
Airs again on Sunday, July 26 at 8:00 P.M. on tpt MN Channel
You can also see the documentary at our Family Day this Sunday at the Minnesota History Center! It will be shown at 3:00 P.M. in the 3M Auditorium.
About the ADA 25th Anniversary Legacy Project
The Americans with Disabilities Act (ADA) turns 25 years old on July 26, 2015. The Minnesota State Council on Disability (MSCOD) is planning a number of activities leading up to and marking this historic day.
The MSCOD ADA 25 year Anniversary Legacy Project seeks to preserve and raise awareness of Minnesota's role in the development of the ADA as well as celebrate Minnesota's disability cultures in tandem with the 25 year anniversary of the passage of the ADA.
More information about the Legacy Fund
MSCOD's Legacy Funds are administered by the Minnesota Humanities Center.
The Minnesota Historical and Cultural Grants Program has been made possible by the Arts and Cultural Heritage Fund through the vote of Minnesotans on November 4, 2008. Administered by the Minnesota Historical Society.