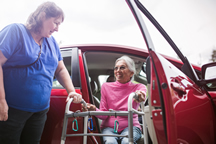 Date: May 9, 2018
Location: Continuing Education and Conference Center
Room 135
University of Minnesota
1890 Buford Avenue
St. Paul, MN
About the Event
This daylong event, convened by the Minnesota Council on Transportation Access, will bring together individuals running volunteer driver programs and other stakeholders. The forum will provide attendees with the opportunity to share information to help maintain and strengthen these programs.
More information will be added to the event web page as it becomes available.
Registration
Registration information will be available in early March.
More Information
Please contact Kaydee Kirk at kkirk@umn.edu or 612-626-5854 with any questions.
About MCOTA
The Minnesota Council on Transportation Access was established by the Minnesota Legislature in 2010 to "study, evaluate, oversee, and make recommendations to improve the coordination, availability, accessibility, efficiency, cost-effectiveness, and safety of transportation services provided to the transit public."
Source: Coordinate Minnesota Transit