Minnesotans love state parks, picnics, camping, lakes, rivers and starry nights.
Graduation parties, wedding receptions, family reunions, adventure, fishing, a day or weekend spent taking a break and reflecting–these activities and more happen at state parks. If you are a person with a disability, however, parks aren't so great. There are issues with parking, visitor center entrances and exhibits, restrooms and shower facilities, drinking fountains and camp area access to water.
Customer service areas, picnic areas and camp fire rings, and camping and cabins may not always be accessible.
Recently, Minnesota Dept. of Natural Resources (DNR) Commissioner Tom Landwehr said in a WCCO Channel 4 feature (aired on May 8), "We want to set up the opportunity an individual can come and experience everything the park has to offer regardless of their physical ability."
Also at this event at William O'Brien State Park were Darrell Paulsen, wheelchair user; Katie Allee, wheelchair user; Minnesota Dept. of Admin Commissioner Matt Massman; Nikki Villavicencio, wheelchair user; and MCD Executive Director Joan Willshire.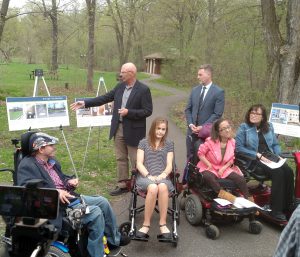 Joan Willshire said she "is looking to have the same experience as everyone else."
MCD, the Minnesota DNR, and the Minnesota Department of Administration are working on securing bonding funding to improve accessibility in state parks.
If you want Minnesota state parks to be accessible to everyone, contact House and Senate Capital Investment Committee Chairpersons Senator David Senjem and Representative Dean Urdahl. Ask them to include funding for accessible state parks in the final bonding bill.
Contact Senate Chair Senjem at sen.david.senjem@senate.mn or 651-296-3903 and House Chair Urdahl at rep.dean.urdahl@house.mn or 651-296-4344. The Governor's bonding bill requests $10 million to improve accessibility at Minnesota state parks. MCD is advocating for $20 million.
For more information, read the following article: Minnesota state parks targeted for better accessibility for the disabled