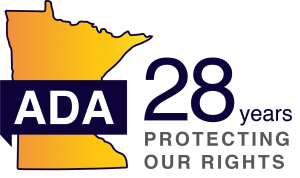 A coalition of disability organizations and state agencies, in partnership with the Science Museum of Minnesota, is organizing a celebration to recognize the 28th Anniversary of the Americans with Disabilities Act (ADA).
This year's theme is ADA & Mental Health: Removing the Stigma.
The afternoon will be filled with:
Entertainment
Speakers
An official proclamation
Light refreshments
And more!
Date: Thursday, July 26th, 2018
Time: 1:00pm to 4:00pm
Location: Science Museum of Minnesota
120 W. Kellogg Boulevard
St. Paul, MN 55102
Keynote Speaker
Marya Hornbacher is a Minneapolis-based award-winning writer, journalist, teacher and lecturer whose body of work includes a huge range of topics, including writing, literature, feminism, ethics, and mental health. Marya Hornbacher homepage
Entertainment
Sam Miltich and Friends present "The Improvised Life: Exploring Intersections of Mental Health & Creativity through Jazz," a program highlighting cultural contributions of famous artists with mental illness (e.g. Thelonious Monk) and inspiring hope through Sam's own story and original compositions. Sam Miltich Music
Adina Burke, who identifies as a bisexual woman with Cerebral Palsy, uses storytelling through spoken word poetry and punk music to address issues of sexuality and ableism. Adina Burke Facebook page