The Great Minnesota Get-Together is for Everybody!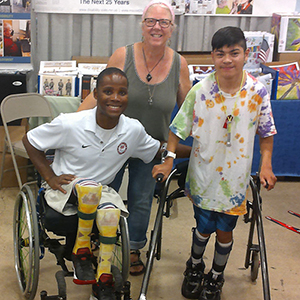 From electric mobility scooters, accessible parking, wheelchair accessible park & ride stops, assistive listening devices, sign language interpreters, curb cuts throughout the fairgrounds and much more, the Minnesota State Fair is committed to providing equal access and a pleasant experience for all guests.
For a full list of details and information visit the State Fair Accessibility Guide web page.
Download the State Fair Accessibility Guide.
Some Helpful Information
Parking
Parking spaces designated for vehicles with a valid disabled persons parking identification are located in many State Fair lots on a first-come basis. Cost is $14 (cash only; a pre-fair discount admission ticket cannot be used to pay the cost of parking). Here is a complete overview about parking at the Fair.
ASL Interpreters
Interpreters are scheduled between 8:30 a.m. and 3:00 p.m.
If you would like to request an interpreter when you visit fair exhibitors (e.g. legislators, candidates, and more), you will have to submit a special request. Special requests for interpreter services will be scheduled depending on availability and should be directed to 651-288-4448 or the Admin Too Building on Cosgrove Street. Interpreters are scheduled between the hours of 8:30 AM and 3:00 PM. Access the interpreter schedule on the State Fair Accessibility Guide website page.
Wheelchair and electric mobility scooters
HomeTown Mobility is accepting reservations for wheelchairs and electric mobility scooters for the Minnesota State Fair. Reservations are only accepted for full day rentals. Access the options and costs for wheelchairs and mobility scooters on the State Fair Accessibility Guide website page.
Or go to HomeTown Mobility for more information and to make a reservation.
More information
For more information about accessibility at the Minnesota State Fair call 651-288-4448 or email accessibility@mnstatefair.org.