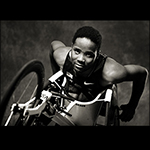 Keep Moving Forward
The Minnesota Council on Disability is proud to partner with Ampers radio station to produce Keep Moving Forward, an interview series featuring people with disabilities sharing perspectives, insights and experiences.
The series explores what's better and what needs improvement for people with disabilities since the passage of the Americans with Disabilities Act. The Keep Moving Forward participants come from all walks of life – they are athletes, artists, policy makers, parents – and more!
Throughout the Fair, the Keep Moving Forward participants will be featured guests at our booth, greeting visitors and signing autographs. They look forward to meeting you!
Learn More
Listen to their interviews at Keep Moving Forward.
Find us on Facebook.
Follow us on Twitter.