The achievements and contributions of Minnesotans with disabilities are bountiful, yet unheard of. Civil rights for people with disabilities in this Nation have made tremendous progress in the past several decades, and many of those important battles on the national stage happened because of Minnesotans. This week, Minnesota Council on Disability presented a funding proposal to the House Legacy Committee in order to capture our legacy of Minnesotans with disabilities, celebrate our progress, and secure our future for all. This Legacy proposal has three components.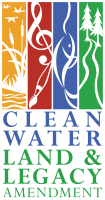 First, we aim to capture our legacy. Minnesotans were at the forefront of the National Disability Civil Rights Movement. We want to find those folks who sacrificed so much so that freedoms may be enjoyed today by so many with disabilities. These cherished stories of significant achievement should be heard by all and shared in many different formats: from video to audio, photography and print. Content produced will nurture and inspire all Minnesotans in a permanent exhibit which will be developed.
This is an urgent and time-sensitive matter. These leaders who are responsible for defining civil rights for an entire generation of Americans with disabilities are passing on. We all are familiar with and reflect on the recent death of former President George H. W. Bush who signed the Americans with Disabilities Act in 1990.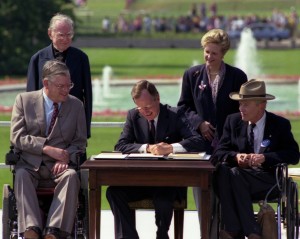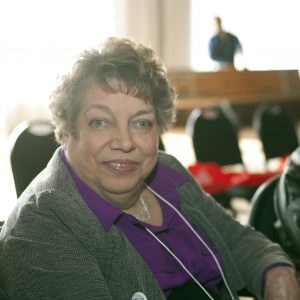 Here in Minnesota, we remember Kathy Wingen who died last month. She is a disability civil rights leader and described by people around her as "tenacious" and "a pioneer." Because of Kathy's efforts, we see a more inclusive City of St. Cloud. Residents can thank Kathy every time they use a curb cut or get to work through dial-a-ride. Stories like Kathy's are exactly what we hope to capture through this Legacy proposal.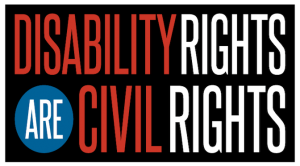 Second, we hope to celebrate our progress by hosting cultural events in 2019 and 2020 to recognize the 29th and 30th Anniversary of the landmark, civil rights legislation- the Americans with Disabilities Act. This will be a time for our community to convene and recognize all that has been accomplished in the National Disability Civil Rights Movement, reflect on the sacrifices made to enjoy the freedoms we have, and to organize our next steps.
Our events hope to engage with the Minnesota disability community, advocates, and other public members to foster knowledge of the Americans with Disabilities Act, its impact on our modern world, and generate greater understanding on the many rights afforded by it.
Finally, we hope to positively influence the culture of Minnesota's professional environment by educating and informing employers on the benefits of hiring people with disabilities. In the United States, the unemployment rate for people with disabilities is 10.5%. Here in Minnesota, it is twice that. People on the autism spectrum specifically have higher unemployment rates that range between 70% and 90%. Much of the cause is due to employment discrimination and the stigma of disability in the culture of the professional world. Through this Legacy proposal, the Council on Disability hopes to build the dialogue around ending the discrimination that is pervasive in hiring Minnesotans with disabilities.
We aim to shift the conversation from "what is the expense of employing people with disabilities" to "what is the value of including people with disabilities in our workforce?"
We thank the House Legacy committee for hearing our proposal and look forward to engaging with legislators and other stakeholders in executing this vision.
The Minnesota Council on Disability exists to serve people with disabilities in Minnesota through development of effective policy, training, technical resources and collaborations with public and private stakeholders. Any policy inquires can be directed to Public Policy Director Kody Olson at kody.olson@state.mn.us.