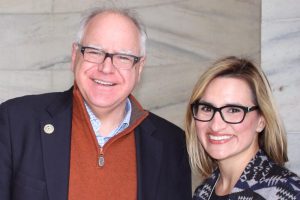 The Minnesota Council on Disability is excited to announce that Governor Tim Walz and Lt. Governor Peggy Flanagan will be providing the welcoming address to the upcoming Legislative Forum on Disability.
Join us for a preview of disability issues in the 2020 legislative session. Catch up on public affairs issues as the Minnesota Council on Disability (MCD), state legislators, disability advocates and organizations lay out their goals for the coming session. The MCD Legislative Forum provides an opportunity for advocates and other disability stakeholders who develop, design, advocate for, and implement disability-related public policy to interact with lawmakers directly.
The Legislative Forum will be on Monday, January 13 from 1-3pm in the Minnesota Senate Building, Room 1200. The event is free and open to the public.
Access the live video stream at MN Senate – Live Video or listen to the live audio stream at 651-284-6475.
Note: The Minnesota Council on Disability has been working with Senate staff to make the live stream as accessible as possible. We understand that it may not be keyboard accessible or screen reader compatible. If you encounter access issues, and cannot use the call-in option, please contact David Fenley, MCD ADA Director, at David.Fenley@state.mn.us or 651-361-7809.
ASL, CART, and audio description services will be provided. This event is accessible and fragrance-free. For additional accommodation requests contact Kody Olson at 651-361-7803 or Kody.Olson@state.mn.us.
Event info: January 2020 Legislative Forum