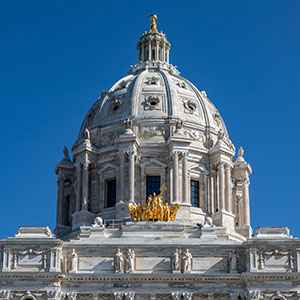 Job Class: Planning Director State
Working Title: Public Policy Director
Job ID: 41595
Date Posted: 09/04/2020
Closing Date: 09/24/2020
Work Shift/Work Hours: Days
Salary Range: $31.70 – $47.14 /hourly; $66,190 – $98,428 /annually
Classified Status: Classified
Bargaining Unit: 214-MAPE
Work Area: St. Paul
Travel: Yes
Connect 700 eligible: Yes
Job Summary
This position is responsible to provide leadership, management, direction, coordination, and consultation to secure the agency biennial general fund appropriation, including fiscal notes, and to administer the public policy initiatives for the agency's human and civil rights public policy program. Work is achieved by preparing reports to state law-makers, briefing packages, budget recommendations, and positioning information. The incumbent coordinates agency statements to legislators, legislative staff, and the governor's office, and ensures effective relationships are established and maintained with the legislature and governor's office so that agency's human and civil rights public policy program is successful.
The incumbent manages the development of strategies for how statewide policy initiatives for people with disabilities will be planned, funded, and delivered by analyzing, monitoring, and administering the agency legislative program.
Example of areas of responsibilities are liaison to state agency officials. Officials are commissioners, directors, planners, and program implementation staff. Duties include policy development, legislative bill writing and tracking, meeting with legislators, attending legislative hearings, delivering testimony on legislation relevant to Minnesotans with disabilities and disability related organizations. Areas of emphasis include but are not limited to; human and civil rights, economic health of people with disabilities, physical and digital access, transportation, employment, recreation, health and human services, independent living initiatives, funding decisions, and other initiatives as they arise.
Minimum Qualifications
The successful candidate should have at least 3 years of legislative, policy, or legal experience (a law degree, Masters in Public Policy, or similar degree may substitute for up to two years of experience):
Experience with financial and budgetary management
Experience with the legislative process
Experience developing and maintaining collaborative working relationships
Demonstrated knowledge of the principles and practices of public policy analysis and development
Working understanding of civil rights related legislation, including the ADA and the Minnesota Human Rights Act
Problem solving ability and creativity
Diplomatic capacity to operate in a politically sensitive environment
Commitment to fostering a diverse and inclusive workplace
Ability to act independently, with minimum supervision
Ability to develop ideas and present recommendations effectively
Preferred Qualifications
Advanced degree in law, public policy, economics, or public / business administration.
Demonstrated experience managing public policy and legislative projects in politically sensitive environments.
Knowledge or experience with Minnesota state government preferred.
Why Work For Us
GREAT BENEFITS PACKAGE! The State of Minnesota offers a comprehensive benefits package including low cost medical and dental insurance, employer paid life insurance, short and long term disability, pre-tax flexible spending accounts, retirement plan, tax-deferred compensation, generous vacation and sick leave, and 11 paid holidays each year.
How to Apply
Visit Careers in Minnesota State Government and choose the appropriate portal:
External Applicants.
Current Employees.
Accessible Applicant Portal.
On the Job Search page (or Careers if you are a current employee) search for: Job ID 41595.
If you have questions about applying for jobs, please contact the job information line at 651.259.3637. Remember: State employees should apply through self service to Job ID 41595.
For additional information about the application process, go to Careers in Minnesota State Government.
Contact
If you have questions about the position, contact Jodie Segelstrom at 651-259-3768 or jodie.segelstrom@state.mn.us.
---
AN EQUAL OPPORTUNITY EMPLOYER
The State of Minnesota is an equal opportunity, affirmative action, and veteran-friendly employer. We are committed to providing culturally responsive services to all Minnesotans. The State of Minnesota recognizes that a diverse workforce is essential and strongly encourages qualified women, minorities, individuals with disabilities, and veterans to apply.
We will make reasonable accommodations to all qualified applicants with disabilities. If you are an individual with a disability who needs assistance or cannot access the online job application system, please contact the job information line at 651.259.3637 or email careers@state.mn.us. Please indicate what assistance you need.