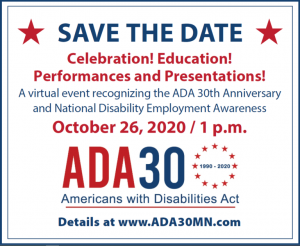 Celebration! Education! Performances & Presentations! Join us October 26 at 1:00 p.m.
The ADA 30th Anniversary planning committee is pleased to announce a virtual event on October 26 at 1:00 p.m. celebrating the 30th Anniversary of the ADA and National Disability Employment Awareness Month (NDEAM). This free, 90-minute, online event will feature informative presentations, artistic performances, and more.
ASL and CART services will be provided for this event. Portions will be audio described. To request additional accommodations, contact Linda.gremillion@state.mn.us by Monday, October 19, 2020.
Join us! Register for this event
If you have difficulty accessing the online registration, please email us at Accessibility.resources@metrostate.edu with your contact information and use "October ADA event" in your subject line.
More information and ongoing updates can be found at  ADA30MN.com or the ADA 30 MN Facebook page.
A big thank you to our sponsors and to Metropolitan State University and Minnesota State for their technical support in hosting this virtual event. A list of Committee Celebration Hosts is listed on  ADA 30 MN Sponsors and Resources.
Keynote Remarks
Disability Civil Rights Champion Kevin Lindsay is the former Minnesota Department of Human Rights Commissioner and currently serves as the Chief Executive Offer for the Minnesota Humanities Center.
Barry Taylor, Vice President for Civil Rights and Systemic Litigation and Rachel Weisberg, Staff Attorney, both from Equip for Equality present:  30 Years of Employment Rights & The ADA: Where We've Been; Where We Are and Where We're Going. Over the past three decades, courts have decided many landmark ADA cases that have forever changed the landscape for people with disabilities. This webinar will review pivotal historical ADA decisions, analyze the current state of the law, and consider what we might see in the future, including as new issues arise, such as COVID-19. Don't miss what is sure to be a thought-provoking celebration!
Special guest performers
Disabled artist/dance/choreographer Alice Sheppard. Kinetic Light, founded in 2016 by Sheppard, is a project-based ensemble, working at the intersections of disability, dance, design, identity, and technology. The event will feature a piece from DESCENT. Combining dance, architecture, design, and technology, the work challenges cultural assumptions of what disability, dance, and beauty can be.
Rapper, disability advocate, and community leader Dupree Edwards. A musician and Teaching Artist Program Support Assistant at Upstream Arts, Edwards brings a powerful, personal message to his music.
The event will feature emcee Vincent Peterson, a Metropolitan State University student pursuing a degree in computer science.