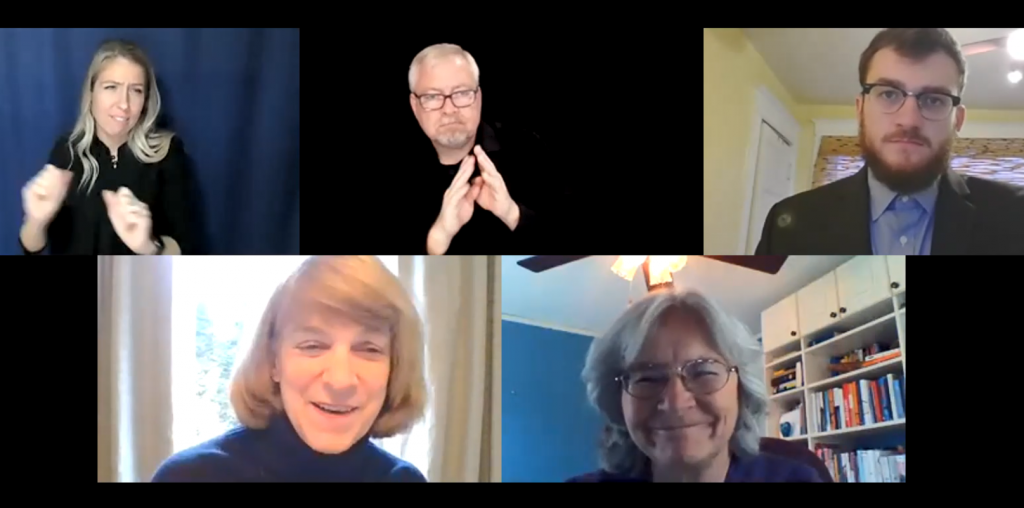 As a segment of the Legislative Forum, the Minnesota Council on Disability (MCD) hosted a discussion around COVID-19's impact on Minnesota's disability community. Panelists included the Minnesota Department of Health (MDH) Commissioner Jan Malcolm and the Minnesota Department of Human Services (DHS) Commissioner Jodi Harpstead. MCD's Kody Olson moderated the discussion. He serves as the disability advisor to the State Emergency Operations Center.
At the heart of the robust conversation was the disproportionate impact of the pandemic on the disability community, particularly those with pre-existing health conditions and folks who live in congregate care settings, such as group homes. To support the disability community in navigating this crisis, both Commissioners rely on their past experiences in service of the disability community. Commissioner Harpstead led Lutheran Social Services, and Commissioner Malcolm led Courage Kenny. The Commissioners rely on state government public servants and disability community advocates. Commissioner Harpstead noted that "the disability community has been at the top of my mind throughout COVID-19" and added that DHS has issued over 100 waivers of rules and regulations to meet the community's needs and provide flexibility for providers and families, PCAs, and others.
Commissioner Malcolm discussed the COVID-19 vaccine and including the disability community in equitable allocation. The Commissioner added that those with intellectual, developmental, and physical disabilities should be included in the priority list and those who live in congregate settings and use care providers like PCAs. Commissioner Malcolm mentioned that Minnesota's Vaccine Allocation Advisory Committee provides input on the allocation of the COVID-19 vaccine and added that the disability community has a representative on that group who has assisted in adding specificity to the guidance.
The State of Minnesota continues its response to the COVID-19 pandemic, which the Minnesota Council on Disability supports. To get in touch with MCD on this topic, contact Kody Olson at kody.olson@state.mn.us. The Disability Hub MN supports individuals throughout the pandemic by answering questions and helping people navigate resources. The Minnesota Department of Health (MDH) has information and resources for the disability community. Join the MDH Disability Unit's "Let's Talk" forum discussing vaccines on January 12 at 11:00 am.