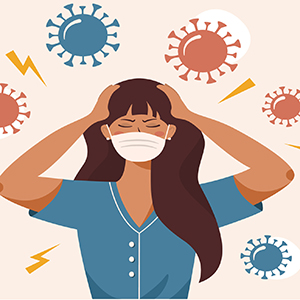 The Minnesota Council on Disability (MCD), as part of the Minnesota Disability Action Partnership, invites you to join us for a webinar.
Coping with COVID-19 and Community Input: A webinar for persons with the trauma of the pandemic
Monday, January 25th, 10 am – 12 noon
Saturday, January 30th, 10 am – 12 noon
(Same sessions on both days)
Agenda
Keynote Speaker
Limitations and disruptions caused by COVID-19 have made everyday tasks more complicated for everyone, especially for people with disabilities. The added stress of dealing with new challenges in addition to your daily life can be difficult and sometimes overwhelming.
We invite you to join Dr. Karyn Harvey to discuss how to cope with the stress and uncertainty during the pandemic. The session will be a group discussion with time for your questions.
Dr. Harvey has more than 30 years' experience in the intellectual disabilities field and is an author of multiple articles and books. She currently is the director of program development and training for the Park Avenue Group, LLC. She regularly trains on trauma-informed care and positive identity development.
Guest Speaker
Lauren Thompson, speaker
Community Input
After the two speakers, raise your hand in the Zoom meeting to get in the queue to share your story or ask a question. There will be a 2-minute time limit for each participant to allow for the most people to share.
Event Details
Zoom Link
Zoom link will be shared closer to the event!
Accommodations
CART and ASL provided; if additional accommodations are needed (such as in-home tactile interpreters), contact Linda at Linda.Gremillion@state.mn.us. Accommodation requests are due by January 19th.
Sponsored by MN Disability Action Partnership
The Arc Minnesota, Autism Society of Minnesota (AuSM), Deaf and Hard of Hearing Services, Department of Education (MDE), Department of Health (MDH), Department of Human Services (DHS), Department of Transportation (MnDOT), Department of Employment and Economic Development; Vocational Rehabilitation Services (DEED-VRS) and State Services for the Blind (DEED-SSB), Disability Hub MN, Governor's Office of Public Engagement Homeland Security and Emergency Management, Metropolitan Council, Mid-Minnesota Legal Aid/Minnesota Disability Law Center, and Olmstead Implementation Office (OIO).
Questions?
If you have questions about the event, please contact MCD at council.disability@state.mn.us.