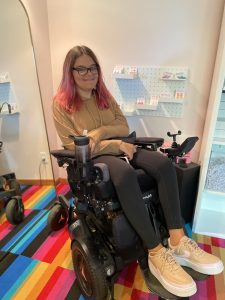 October is National Disability Employment Awareness Month (NDEAM)! In celebration, the Minnesota Council on Disability puts the spotlight on Minnesotans with disabilities seeking employment – without the inspirational spin.
Meet Erin Thomson. Erin is the owner of RolledClay, a local, online jewelry and accessory shop. Erin talks about the ableism and discrimination she experienced while searching for work and how "showing the world what two disabled hands can do" has led her down a path to success.
Can you tell us something about yourself?
My name is Erin, I'm 24, and I live in the metro area. I enjoy learning and being creative. This year I started a small business called RolledClay. I've been disabled for 12 years due to an accident in middle school and am quadriplegic, which affects my hands and legs. I use adapted tools like my wheelchair and service dog Runa to navigate the world. I'm the kind of person that when I want to do something, I do it.
Did other's expectations for your life change once you became disabled?
Life was blurry after my accident. I remember feeling like, "I don't know what's happening." I think my age played a large factor in the way people approached me. There tends to be more guidance when adults are injured. As a kid, I felt like I was getting talked down to and being told, "It's going to be fine." I kept wondering, "What am I supposed to do?"
Did they expect you to go to college and get a job?
In my experience, ableism is especially real in the education system. Many people in that world do not have high expectations for students with disabilities. I think an important question to ask is "How do we adapt special education for someone who is looking forward to going to college? How do we have high expectations for kids with disabilities when those who work in the classroom and school have never seen it  done before?"
With the severity of my disability and the change from being an able-bodied gal to a gal using a power chair, I always felt like the Guinea pig. There was this dramatic change: I had a service dog, I was in mainstream advanced placement classes, and I needed occasional support.
Being successful in school was not enough. When I told my homeroom teacher that I was going to the University of Arizona, he said, "You're not going to last a year. You're going to come home." Of course, I went, and I graduated in less than four years!
How did moving from Minnesota to Arizona go?
My family was very supportive. They backed me up in whatever I wanted to do. I knew the only chance to get a degree would be in a warm state because I have issues with the cold. I can't regulate my temperature, and Minnesota's winters bring the barrier of snow and ice.
I applied to several schools and was accepted into all of them. I ultimately decided on the University of Arizona. I loved that they had a good Disability Resource Center. When I was rolling around the campus, I saw other people using chairs. I felt a sense of community, and that was a big deal for me.
Can you tell us about your first paid work experience?
My senior year in college, I took a class on product development, and our assignment was to create a product for underserved communities. I wanted to create an app about physical access for people with disabilities because that's something I've always struggled with – as most people with mobility devices do. My idea for the app was chosen, and I was paired with a classmate who also had a disability. We were able to sell the product and were given the opportunity to develop the app with a local newspaper in the form of a paid fellowship.
Did you experience any barriers during your first job with the local newspaper?
Transportation was a big barrier! The university was close to downtown Tucson, but the paper itself was in South Tucson. When I reached out to my school to find what transportation options were available, I quickly found out there was only one –  take a bus. Tucson's crime rate is high. I didn't feel safe knowing that if someone wanted to steal something from me, they could easily steal it, and I couldn't stop it. Ultimately, I talked to my parents, and we were able to set up a van to come and get me. The round-trip ride ended up costing $160. Not equitable! Especially, knowing that if I was able-bodied, I could have just taken an Uber or carpooled.
Your partner for the app project was also disabled. Did that add to any ableism?
Yes! A barrier that my partner and I experienced was being "looked down on" when we talked to groups about our app. We were frequently asked, "Are you able to do that?" but not blatantly. It was in their body language. The fact that they would accept what we were saying, but not apply our suggestions, spoke volumes.
In our society, there is a "just get a job mentality," but for the disability community, it's different. I've had experiences where I go into job interviews, and they're blatantly discriminating.
This was also my first time witnessing ableism directed at someone else. My partner's disability affected their speech, and it was common for people to get frustrated with the way he spoke. Eventually, they would stop talking to him and only wanted to talk to me. It was hard to reckon with the fact that we were doing an app for the disabled community while experiencing ableism. At one point, I asked myself, "Why would they want to create a product for this community when they don't even want to support us in development?"
It's more than just transportation and ableism; I was risking my health! In our society, there is a "just get a job mentality," but for the disability community, it's different. I've had experiences where I go into job interviews, and they're blatantly discriminating. How am I supposed to get a job when the first thing they see is a wheelchair and go, "Well, this is not going to work"? There's no equity.
What happened once you graduated college? Were you able to find work?
Once I graduated, I wanted a job in Tucson, but that didn't happen, so I came back to MN. I started getting interviews in MN, and I was so excited. Then I quickly realized that a lot of those interviews were very uncomfortable! Within a year, I applied to over 100 positions – with about 20 actual interviews and no job.
Once COVID happened, my disability was not a part of the equation because I was being interviewed from the shoulders up. I realized that I didn't have to tell them I have a disability if I didn't want to. That seemed like a huge benefit! Until I would think to myself, "When do I bring in the fact that I have a 400-pound wheelchair and a golden retriever next to me?!"
Within a year, I applied to over 100 positions – with about 20 actual interviews and no job.
Once COVID-19 appeared, did you still experience job discrimination?
Unfortunately, yes! One of the more shocking experiences I had was with a large health insurance provider. I informed the company that I use a wheelchair and asked if I should use a particular entrance. The HR person assured me there was no problem, and I could use the ramp and door opener to get in. After that, I received two separate emails and another phone call asking if I needed any other "accommodations." Each time I repeated I was just giving them a heads up and checking for access.
On the day of the interview, I was escorted to the largest conference room I have ever been in – there were 50 chairs! I moved up to the table, and the person interviewing me asked me if I thought there was enough room and began to move the chairs. In the rest of the interview, she told me personal information about someone who used to work there who had a disability – to get me to disclose what kind of disability I had.
Looking back on it, I didn't know how to handle the situation. I was so uncomfortable. Telling me the story about someone else was uncalled for.
What led you to start your earring and accessory business RolledClay?
It's something I don't talk about much, but RolledClay came out of the physical pain that I've been going through lately and as a way to cope during COVID. I wanted to find a creative medium that wouldn't frustrate me when I get spasms in my hand. I love the way clay looks, and playing with it is pleasing. It has been a process to learn how my body works with the clay. Soon enough, people wanted to support me and started to ask where they could buy my stuff.
"Showing others what two disabled hands can do" has become one of your business mottos. Can you explain how that came to be?
I've always tried to portray that this hand-intensive medium can be done in different ways. That disabled hands are just as great as any other hands. Many people with disabilities can't follow what everyone else is doing. We must create our own way.
I want to show people that there are times when I mess it up and fumble. But I get the job done, and my earrings look great!
What do employers need to know about hiring people with disabilities?
Seeing us as people is a good start. From there, see us as different people! It's about checking in with each person and having a conversation about our needs and capabilities. It's important that people do not assume  – ask. I believe that is the difference between equality and equity!
What do you hope for in the future?
I'm looking forward to feeling that confidence again that I felt when I graduated! I can't wait to get a job that I'm proud of. I now have the tools to understand how job interviews work, and I have been empowered by some people in Human Resources who told me how to handle uncomfortable situations. I know now that I have every right to say the interview is done, I'm uncomfortable, and I don't want this position. No one needs to sit through an interview when they are being discriminated against.