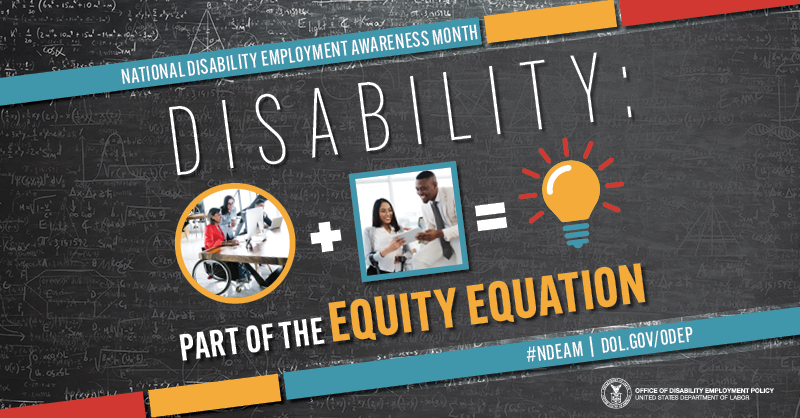 The Minnesota Council on Disability shares the following press release from our partners at the Minnesota Department of Employment and Economic Development.
ST. PAUL – Governor Tim Walz has proclaimed October as Disability Employment Awareness Month in Minnesota (PDF), recognizing that individuals with disabilities bring skills, experience and talent to the workforce and are a critical part of our economic success. October marks the 77th annual observation of National Disability Employment Awareness Month and this year's theme is Disability: Part of the Equity Equation. This month, the Minnesota Department of Employment and Economic Development (DEED) is promoting events, blogs and other resources focused on disability employment awareness and celebrating the diverse contributions of workers with disabilities
"Employees with disabilities broaden business perspectives, create more inclusive workplaces where everyone feels more welcome, and increase the problem-solving capabilities of the organizations where they work – among many other strengths," said DEED Commissioner Steve Grove. "Minnesota's economy and its competitiveness require the contributions of all people, including those with disabilities."
Minnesota's Vocational Rehabilitation Services (VRS) program, and State Services for the Blind (SSB) are DEED divisions that have long focused on connecting workers with disabilities to employment opportunities.
"VRS staff provide counseling, training, placement services and job supports to people with disabilities – and we help young people with disabilities transition from school to work," said VRS Director Dee Torgerson. "VRS also partners with employers to assist them in recruiting, hiring and retaining talented individuals with disabilities to meet their staffing needs."
"Our customers who are blind, DeafBlind, or visually impaired bring skills, experience and proven problem-solving ability to the workplace," said Natasha Jerde, SSB director. "Time and again we hear from employers how glad they are they tapped into this often-overlooked talent pool."
More than half a million Minnesotans report having one or more disabilities. The unemployment rate for people with disabilities is double that of people without disabilities. During our current historically tight labor market, it's more important than ever to reach out to often-overlooked talent pools, including those with disabilities. This is why the work of VRS and SSB remains so critical today.
Employers who want to connect to workers with disabilities are invited to utilize our resources on CareerForceMN.com/NDEAM, which lists events, links to hiring and retention resources and more. Career seekers with disabilities are encouraged to contact staff in the state's Vocational Rehabilitation Services and State Services for the Blind divisions.
DEED is the state's principal economic development agency, promoting business recruitment, expansion and retention, workforce development, international trade and community development. For more details about the agency and its services, visit the DEED website, the JoinUsMn.com website, or follow us on Twitter.
###
Upon request, this information can be made available in alternate formats for people with disabilities by contacting the DEED Communications Office at 651-259-7161.