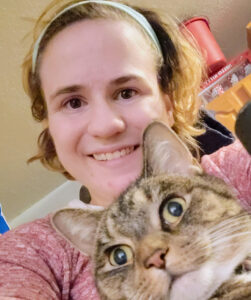 March 25th is Cerebral Palsy Awareness Day. In recognition, we asked Alisha Srock, who has cerebral palsy, to share some thoughts with us—and with you.
My name is Alisha. I'm 32 (I promise). I am, as far as anyone can prove, human. I love reading. I love animals. I love gaming. I love being of help to as many people as I possibly can. I have an eclectic collection of hobbies—possibly bordering on obsession, a dog, a cat, and maybe too much stuff. I hate bugs. I hate winter. I hate it when the Wi-Fi is down. But two of the things I love and hate the most are hopelessly intertwined.
I hate being told what I cannot do, and I love subverting those expectations. I've been doing that since the very day I was born. I like to think I'm pretty good at it too. Years of experience, and all that; with a little help from caffeine, and good ol' fashioned stubbornness.
You see, I also happen to have cerebral palsy. Other people like to use that as an excuse to lower their expectations of me. At best, make me into a two-dimensional feel-good story, or, at worst, pretend I don't exist. I like to think of it as playing the Game of Life on Hard Mode—more difficult, but not impossible. Sure, sometimes I desperately wish I had an Easy Button, I won't lie. Those days, I'd probably give my right arm for such a thing. (But not the left one—Lefty is the good one, so I need it.)
More often than that though, when I stop buzzing around like an over-caffeinated busy bee to think about the state of Me vs. The Universe, I'm glad. I'm glad because playing on Hard Mode means you gain the skills to overcome. I'm glad because I learned things along the way. I learned patience; I learned problem-solving; I learned confidence; I learned perseverance; I learned flexibility (the mental kind—physically, I'm usually more akin to uncooked spaghetti than a wet noodle).
I'm still leveling up. We all are.