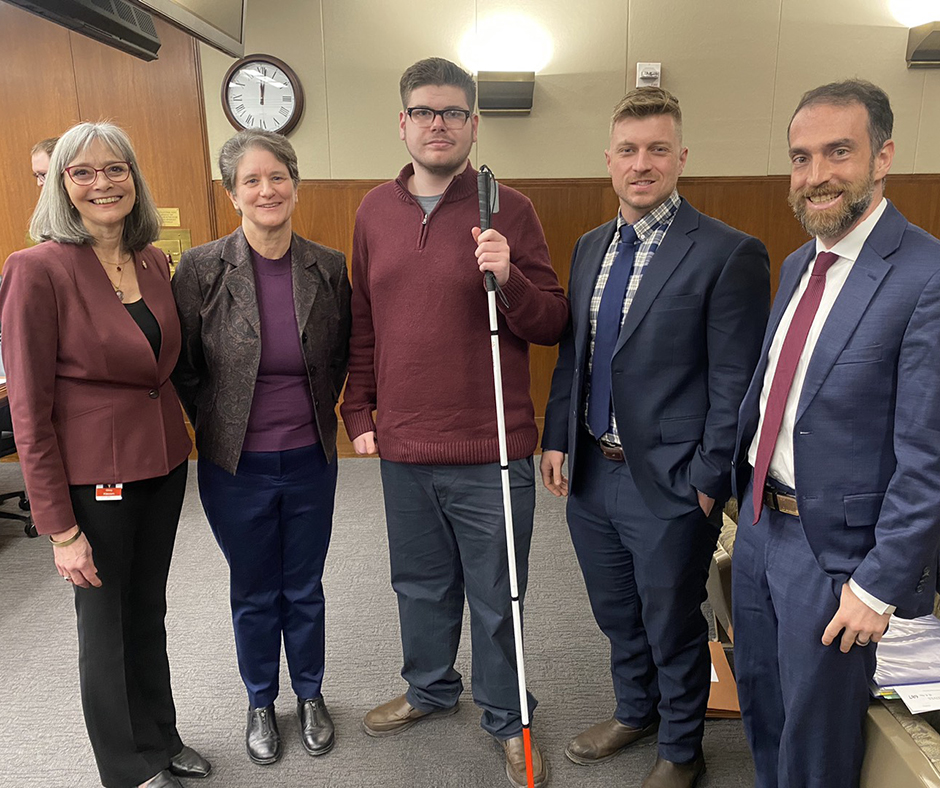 Today's blog post is by guest bloggers Gage Robinson and Mary Hauff. Gage is a persistent, life-long learner with an intellectual disability (ID). He is continuing his education through his school district's transition program and wants to go to college to pursue his interests and career of his choice. Mary is a parent, co-leader of the Minnesota Inclusive Higher Education Consortium and The Arc Minnesota Public Policy Committee member. She has become a leading expert on inclusive higher education in the state of Minnesota. Together, they want to provide insight into why inclusive postsecondary education is so important and the status of introduced legislation that will increase access to Minnesota postsecondary education for students with ID across the state.
Gage's Perspective
Why Is College Important to You?
I like being included with my same-age peers and friends. College is a time for me to explore and find my path. I want to keep learning about things I am interested in. I want to go to college. College classes will help me gain more experience and credentials for my resume and job search. Like a lot of students my age, I have many interest areas. Right now my first choice is cabinetmaking. I also want to learn more about public speaking and leading a nonprofit. I have a nonprofit, Gage Gives Back. The nonprofit's primary mission is public awareness of shaken baby syndrome. I am a public speaker. I want to learn more about web design and social media for my nonprofit.
What Have You Done to Advocate for Inclusive Post-Secondary Education in Minnesota?
During this legislative session, I testified for the Minnesota Inclusive Higher Education ActHF687 (Klevorn) /SF655 (Fateh). When I testified, I felt proud and like I was making a difference. I hope the bill passes this session. The new law will create a pathway to college for students like me. College is possible for students with ID.
Mary's Perspective
As Gage stated, college for students with ID is possible. They just need the chance. Expanding college options to include students with an ID is important to me because I am a parent of a college-age student with ID. Our family has lived experience and I want to make a difference for all Minnesotans with ID who what to go to college.
There are more than 5,000 Minnesotans with ID who are college-age but have limited to no access to college. Minnesotans with ID want to go to college, but less than 3 percent have access to college in Minnesota. The proposed legislation (HF687/SF655) opens the pathway to college. The legislation establishes an Inclusive Higher Education Technical Assistance Center to provide expertise in intellectual and developmental disabilities and inclusive higher education to faculty and staff at Minnesota colleges and universities – as well as students, families and educators. The second part of the legislation is competitive grant funding that eligible Minnesota colleges and universities are able to apply for…to help cover the initial start-up costs for new or expanded inclusive higher education initiatives across the state.
Gage and I are thankful for the leadership of The Arc Minnesota, and support from the Minnesota Consortium for Citizens with Disabilities (MNCCD) and Minnesota Council on Disability (MCD). We were joined by a number of other prospective college students with ID who testified or submitted written testimony on behalf of the bill.
The bill was heard in the Senate Higher Education Committee on February 2 and in the House Higher Education Committee on February 16. The proposed legislation has been included in the Higher Education Omnibus bill HF2073/SF2075. And, we are optimistic that the Inclusive Higher Education Act provisions will be passed into law through the Higher Education Conference Committee Report. You can monitor the progress of this inclusive higher education bill by subscribing to The Arc Minnesota's Capitol Connector Newsletter.