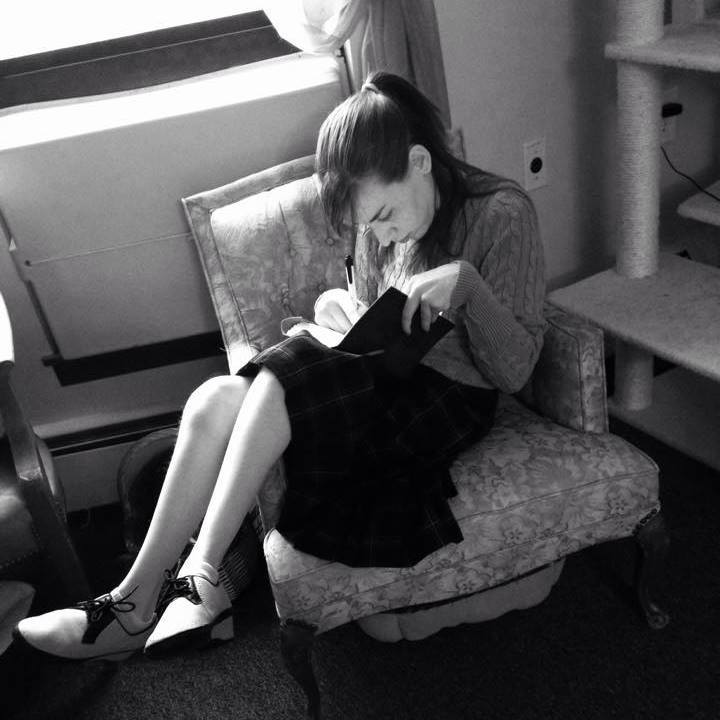 A guest blog post by Adina Burke, queer poet:
In 2017, I released Wheelchairs, Whips and Bondage Tape. In said chapbook, I wrote about coming to terms with my disability, and I wrote about my queerness in a way that celebrated both in an unabashed way, and at that time I really felt listened to, I really felt seen. However, when it comes to this pandemic, I can't help but feel like I am coming out again. I am attempting once again to adapt to a society that views me as less than an afterthought.
In fact, not too long ago, a podcast reached out to me to discuss Wheelchairs, Whips and Bondage Tape, and the ethos that is the disability punk movement, and I fumbled throughout the whole thing because I was attempting to find something I felt was that was no longer there for me. A home I found in an audience, and in being part of an audience has been pushed to the side, and I now no longer find myself to be equal in those spaces. The pandemic shattered this for me. Though, to be clear, I knew disillusionment was coming for me eventually, but I did not expect to meet her so soon. For a while I have been trying to once again shove myself through spaces that view me as an afterthought, if not less than that. Sometimes, I find myself thinking that way about my queerness too as of late, and I know I cannot be alone in this. I stumbled into smallness. Shrinking for safety, and in hopes of assimilation.
There was, and has not been one breaking point, one moment or straw that I can point to, and I so desperately wish there was, just for emotional simplicity. Was it the helicopters flying above my building whilst I made sure my friends were as safe as possible during the uprising all the while feeling powerless? Was it witnessing an insurrection attempt on TV, and seeing a woman die in the name of delusion? Was it having a Zoom seder to avoid a very real plague? The ever-prevalent eugenic narrative that is the mishandling of COVID-19 that made me desire to be marketed as more consumable for those unlike me? How do all those I've loved before fit into this?
Now, three years on in this pandemic, a mass disabling event, I'm seeing so many of my abled-bodied peers come out with disability or neurodivergence. I'm seeing so many people either grappling with their sexuality, or gender identity, and wondering whether they take up too much space, or if their identity really counts, even to the point of denial. Be it of newfound disability or chronic illness status, or of reflections in queer identity and what that now means. Taking up space while being told your space inconveniences others, or even goes so far as to disgust others (I'm looking at you, Candence Owens.) is quite the emotional tax.
When this pandemic started, I thought we'd build more community, more of a collective sight, as more of us began working from home and my peers realized that 1,200 dollars or less isn't enough to live on. Instead, it feels like I and others like me, and those in my community are starting from scratch. Being reacquainted with our identities, and having those identities under attack, you start to wonder what pride has to do with it? How do we hold the energy for pride while focusing so much on survival?  We're starting again because we must. We learn about ourselves a bit more every day, in order to build up ourselves. Even though time has seemed to cease since 2020, it remains a constant. I am rebuilding a home within myself amidst mass trauma and crises. I'm learning to be okay with this. I think.
As an artist and an activist myself, who's had to really embrace her identities as queer, neurodivergent and disabled—here in so many spaces trying to shift and move to better herself—I can only tell you that pride takes work. Bricks have not only been used against those who oppose us (Thanks Marsha! Love you.), but they have also been used to build our communal spaces, our homes. Building is a process, just as decay is—but bricks remain steadfast. I think of pride like that. Pride is something so many of us fight for, actively, every day; whether it's in the mirror while practicing affirmations, at protests, or at the voting booth. Pride is a gift. Pride is a tool, and yes, you can seek out pride in your survival. Pride is as much a verb as it is a noun.
I cannot actively say I'm proud of myself every day, as I'm still unlearning internalized ableism and undoing internalized heteronormativity, but I am building the foundations. And as simple as I'd like things to be, I know that I am using the bricks of those thrown and used to build safety before me. One day, one moment, one conversation, one performance and one poem at a time.
You can do that too. Don't be afraid to throw. Don't be afraid to build. We're meant to take up space. There is progress in small processes. Brick by brick.