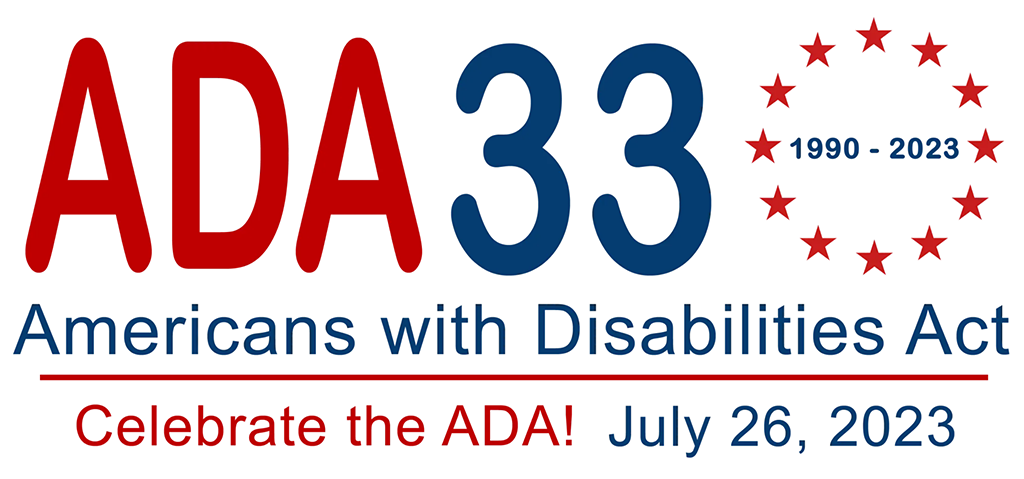 Today marks the 33rd anniversary of the Americans with Disabilities Act (ADA), civil rights legislation that changed how society approaches disability and views accessibility and inclusion. Passed into law on July 26, 1990, the ADA extended the promise of civil rights in this country and gave legal protections to millions of people with disabilities.
The ADA rests on the principle of equal access for people with disabilities in all areas of public life, including:
Employment
Education
Government programs and services
Places of public accommodation
The provisions of the ADA serve as both a strong defense against discrimination and as a powerful tool for equality and justice.
Prior to the ADA, people with disabilities often faced significant barriers in their daily lives and were routinely excluded from many aspects of society. The lack of accessible infrastructure, education, and employment opportunities not only created barriers for people; it also marginalized them. The ADA played a pivotal role in removing many of these barriers and encouraging a culture of inclusion.
For 33 years, the ADA has been instrumental in the creation and enforcement of accessibility standards across both public and private sectors. From making workplaces more accommodating, to mandating accessible design in public spaces, to ensuring equal access to programs and services, the ADA has been truly transformative.
As celebrations have expanded from a day of recognition to an entire month of Disability Pride, let us note how the ADA has helped shift societal attitudes about disability. By advocating for inclusion, the ADA has challenged stereotypes and biases, leading to a more diverse society. Importantly, it is helping to create a culture where disability is not regarded as a limitation, but as a different aspect of the human experience. An experience filled with its own struggles, achievements, and contributions.
On this 33rd anniversary, let us reflect on the significant strides made under the ADA, but also recognize the work yet to be done. Barriers to access still exist in our built and digital environments. But barriers to acceptance and inclusion also continue to exist in our attitudes and understandings. Let us continue working together to create a society that is accessible to everyone, enabling them to lead the lives they choose to their fullest potential.
More Information