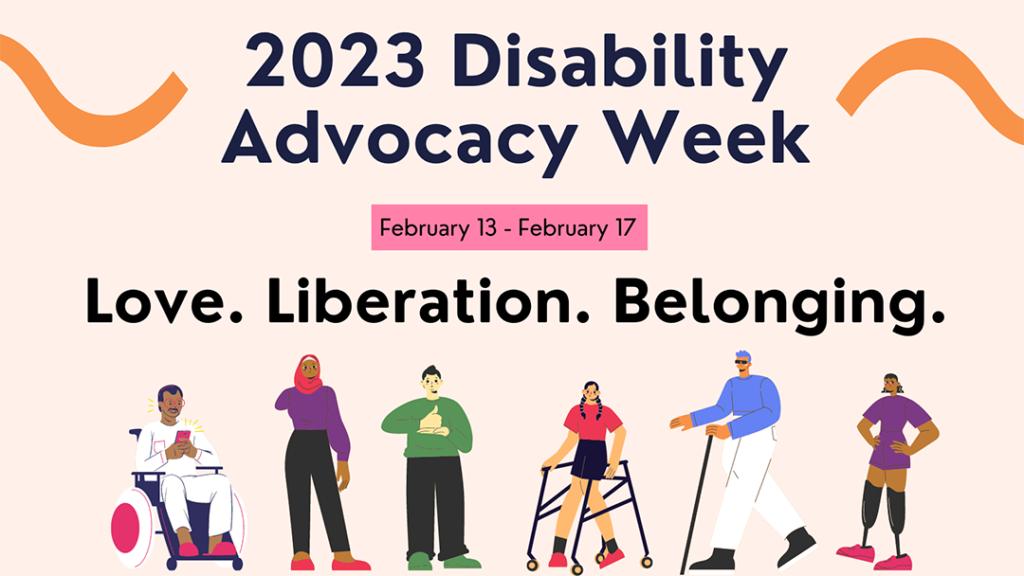 Thank you for joining the Minnesota Council on Disability (MCD) as we co-hosted Disability Advocacy Week from Monday, February 13 to Friday, February 17! Disability Advocacy Week was an entire week of grassroots action centered around the theme "Love. Liberation. Belonging."
Stories that Stick: Tips for Meeting Elected Officials
Monday, February 13th attendees joined leaders, lobbyists, and policymakers – all people with disabilities – to learn effective advocacy strategies. The presentation featured tips and tools for meeting with elected officials.
Disability Advocacy Day Rally
Tuesday, February 14th attendees met at the Capitol to advocate for love, liberation, and belonging.
Following a march and roll to the Capitol, co-hosts shared information about their policy priorities this session, and attendees made posters centered around the event theme of "Love. Liberation. Belonging." Many people also took the time to meet with their elected officials.
You can view photos from the rally in a series of MCD Facebook posts.
Making Your Case
The rest of Disability Advocacy Week focused on your own advocacy efforts. We hope they continue throughout the legislative session!
The Minnesota Governor's Council on Developmental Disabilities offers a booklet with techniques and insights to effectively take part in the legislative process and positively influence public policy at all levels of government. Topics include:
the different methods of communicating with legislators and public officials
the roles and responsibilities of legislative staff,
the various approaches for "making your case"
the items specific to the Minnesota legislative process
a glossary of terms
Event Sponsors